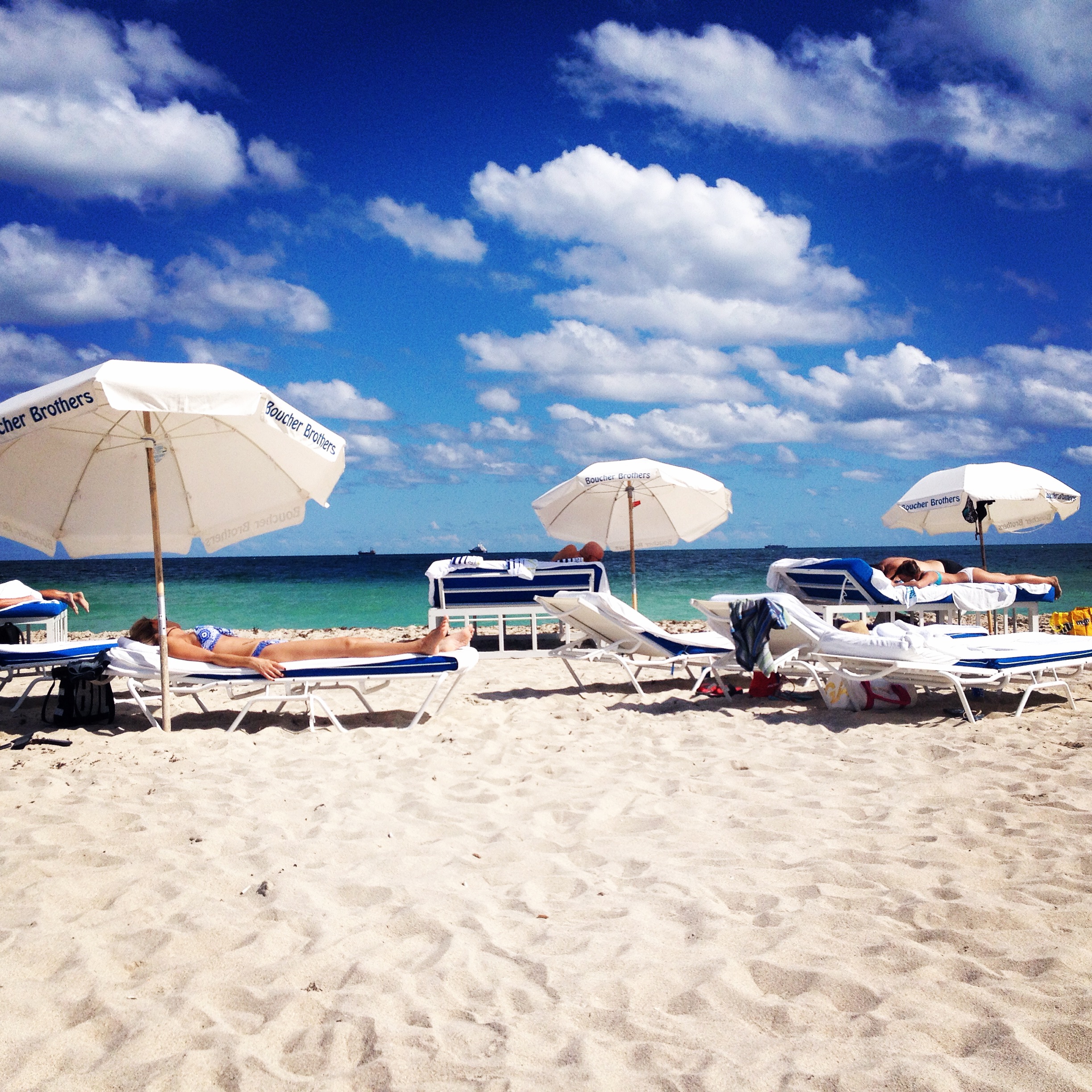 One of the amazing things about the US of A is that everything is so accessible.  You can use an app (Task Rabbit) to get somebody to pick up your spiced mulled wine that you forgot was the key ingredient to your recipe or you can travel without having to plan ahead.
THIS IS ONE OF THOSE TIMES
The latter highlights the ease of travel in the USA – hence our last minute trip to Orlando and Miami.  We booked our flights about a month prior and flew by the seat of our pants for the rest of the stay.   Here is a last minute holiday that turned out to be one for the history books:
Flights:
Flew into Orlando from SFO, left on a Thursday evening and arrived on Friday morning.  Went straight from our flight to our hotel.
Because we only had one day at Orlando, we decided to go hard and do a two park pass at Universal Studios.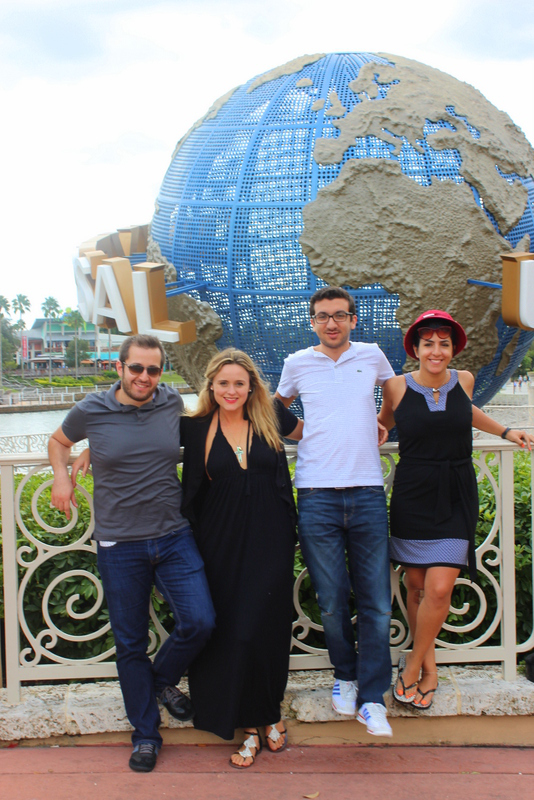 FYI We arrived about 12pm and the parks closed at 8pm.
Eight hours was plenty of time to do both parks.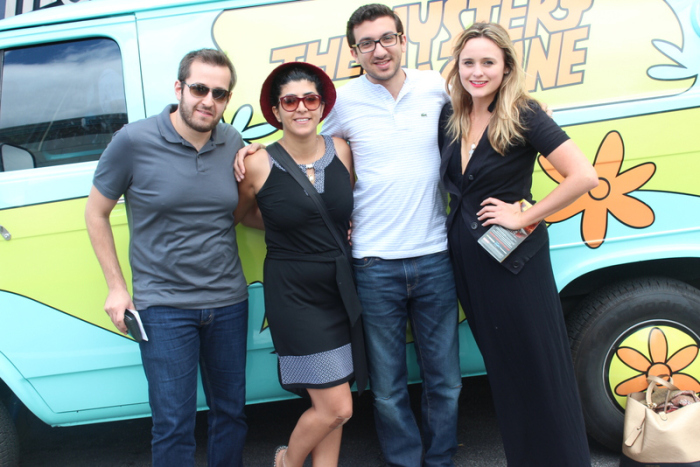 We had the pleasure of seeing all our favorite characters, from ET all the way to Dora the Explorer for the children.  This is a perfect place to bring your kids and celebrate a fun filled family day.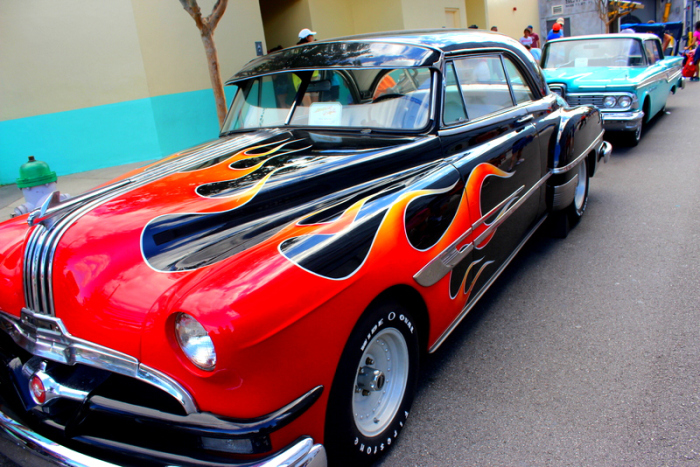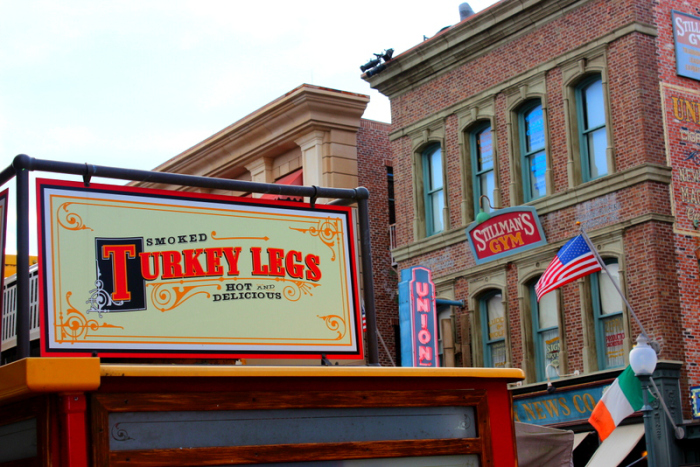 Yep, there's really Turkey Legs – hot and delicious.
The Transformers ride was amazing!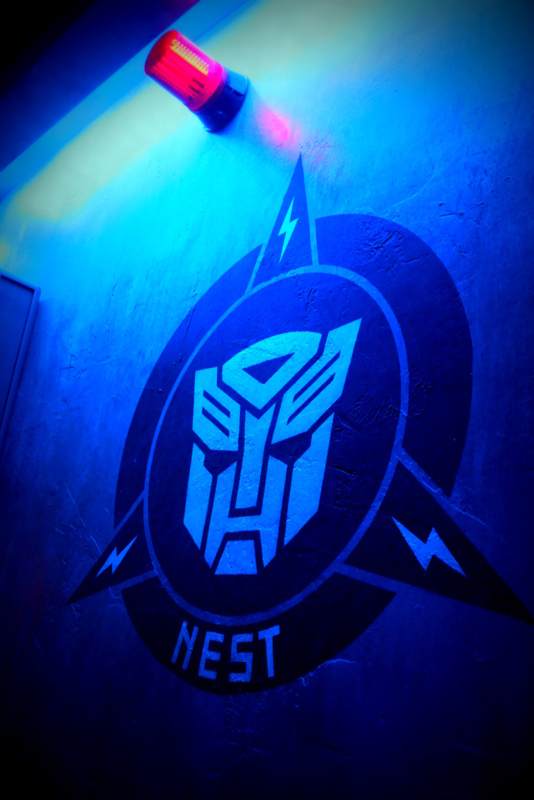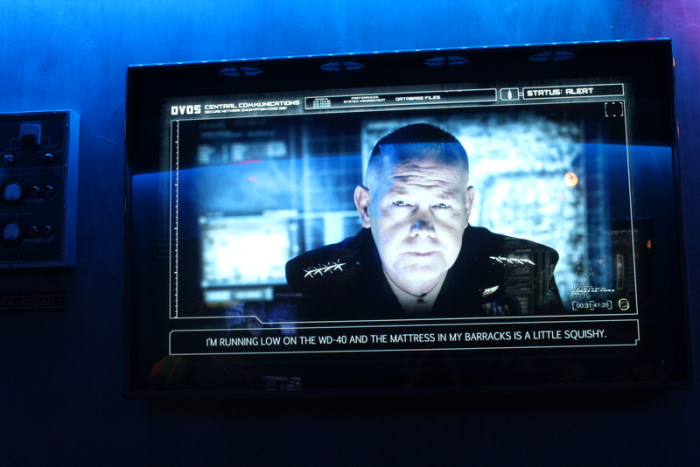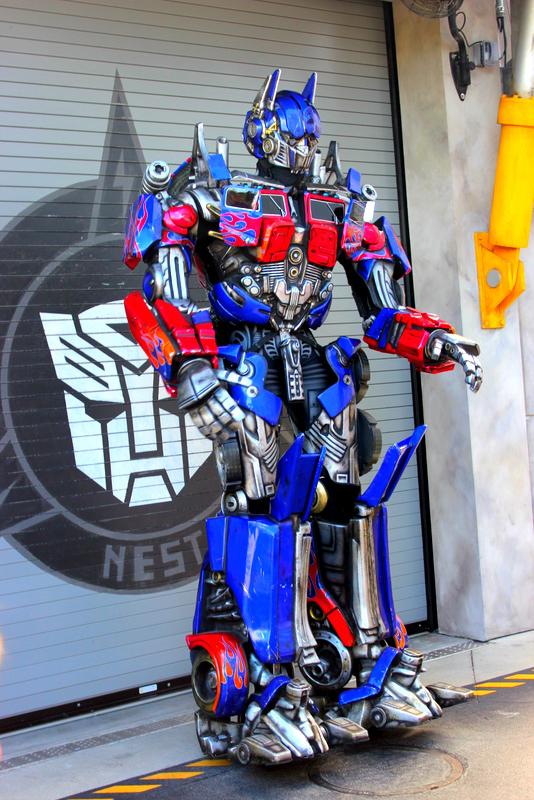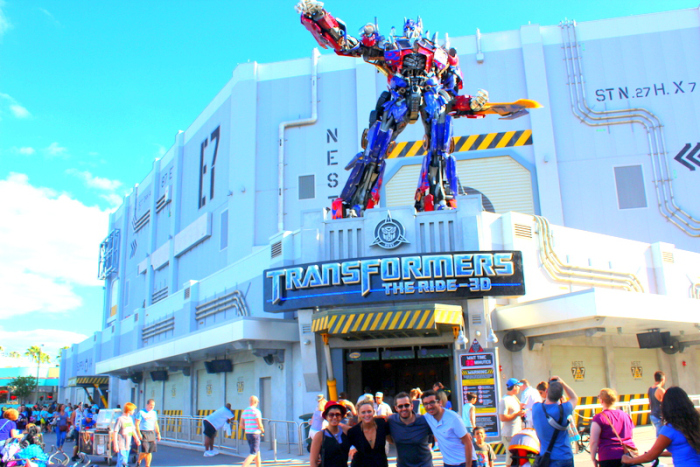 In case you're feeling homesick: San Francisco is only a block away…
The Simpons…
The crowning glory of Universal Studios is Harry Potter World.  You feel like you are drawn into Hogwarts, with an exact replica of King's Cross Station, the flipping times of the train schedule, and entering the Hogwarts express from platform 9 ¾.   Us muggles were inpressed!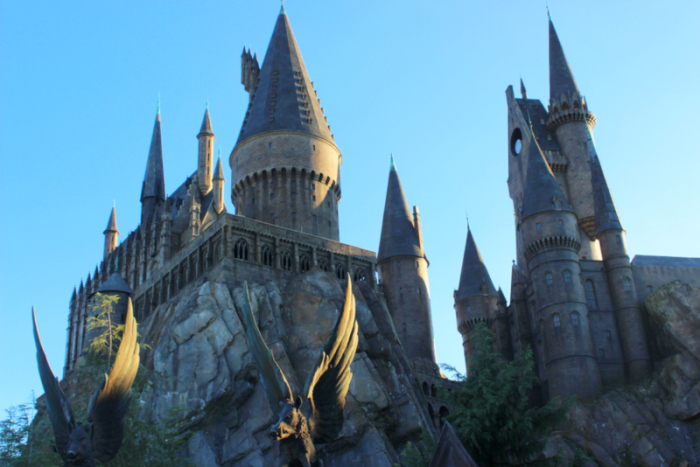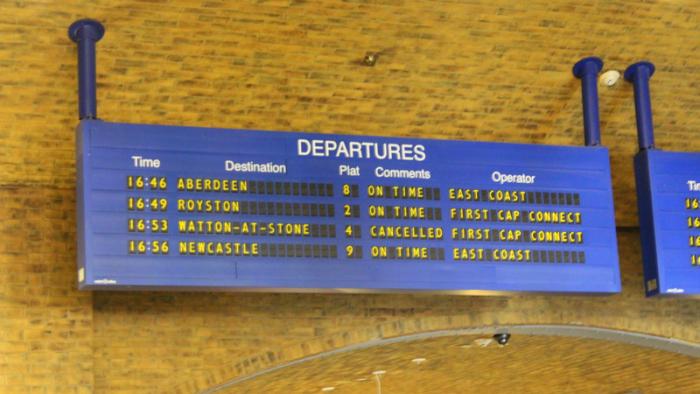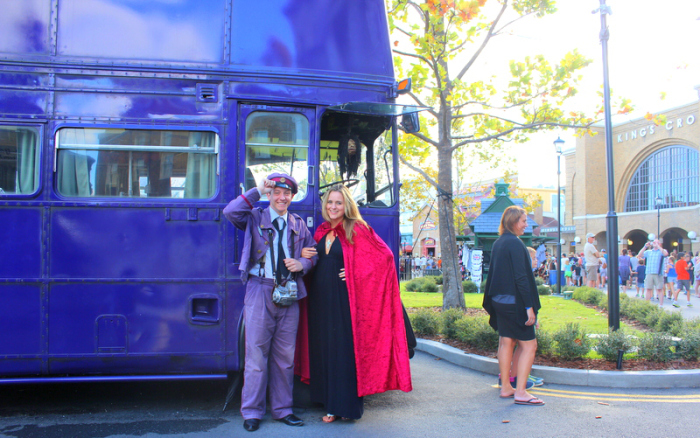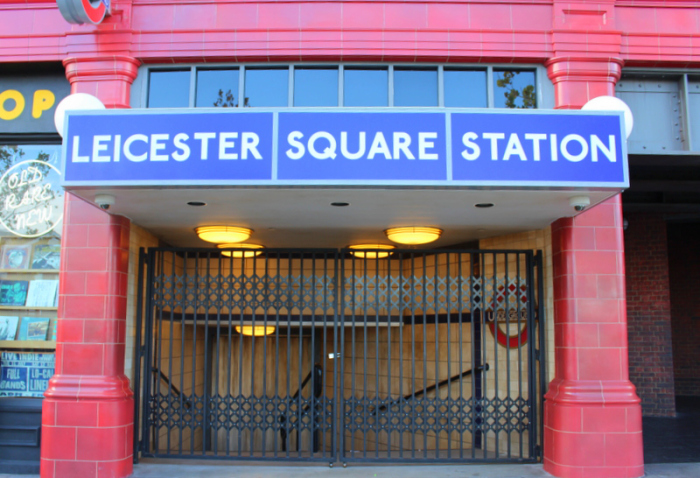 If you are a Harry Potter fan you must enter Universal's Islands of Adventure Park on the Hogwarts express.  There is a line for this, but as you can see you can stop off at the corner store and get some beers for the wait!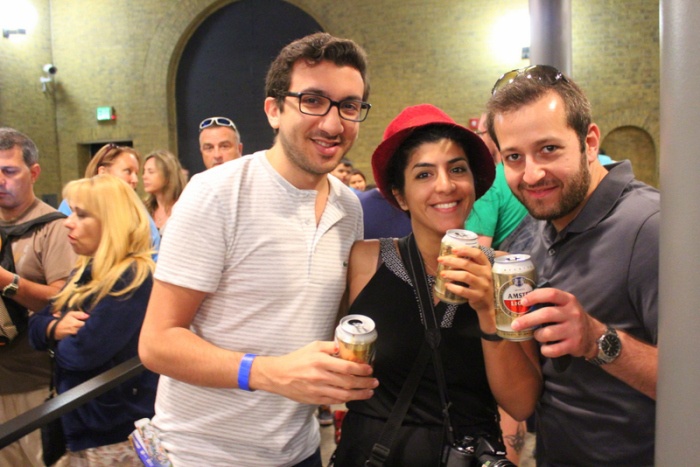 This is extremely well done, with the ushers dressed in the exact outfits and all your favorite characters.  Upon exiting the train carriage, you are whisked away to Diagon Alley, where  you can purchase wands, sorting hats and any other Harry Potter memoribilla.  For the parents you can sit down and have an ale in the local pub, while the youngings go and play a simulated quidditch game in Hogwarts castle.  Truly a magical experience.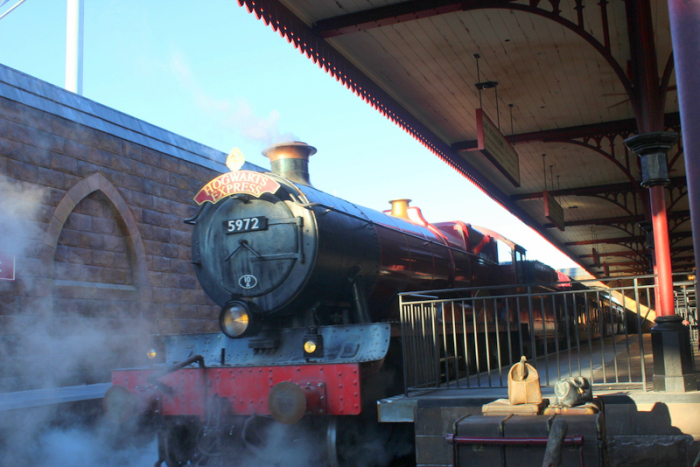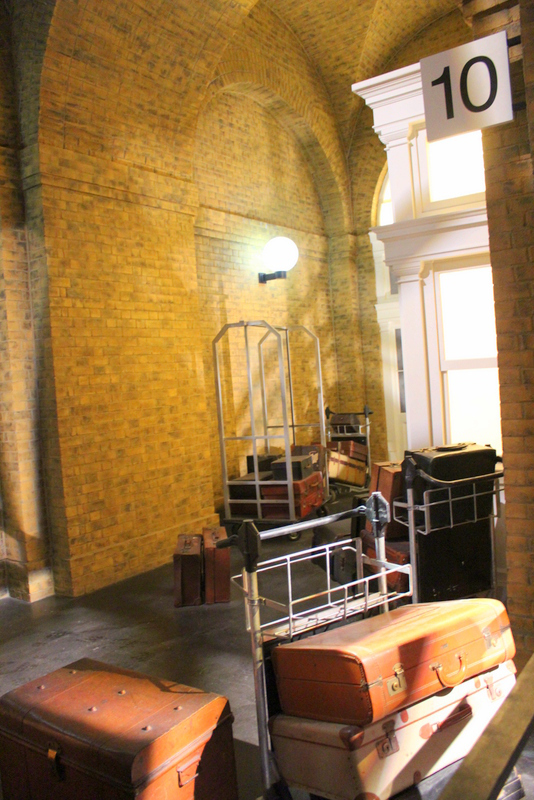 Eat:
Lunch:
The food lines were very long here, so we ended up eating at the children's area.  I would suggest not doing this as the food was expensive and not worth it – $9 for chicken tenders and chips.  Take your own food or wait in line where everyone else is waiting.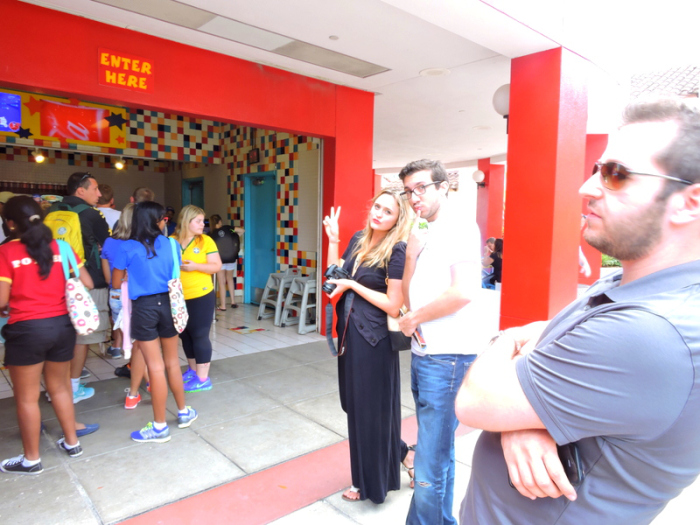 Dinner: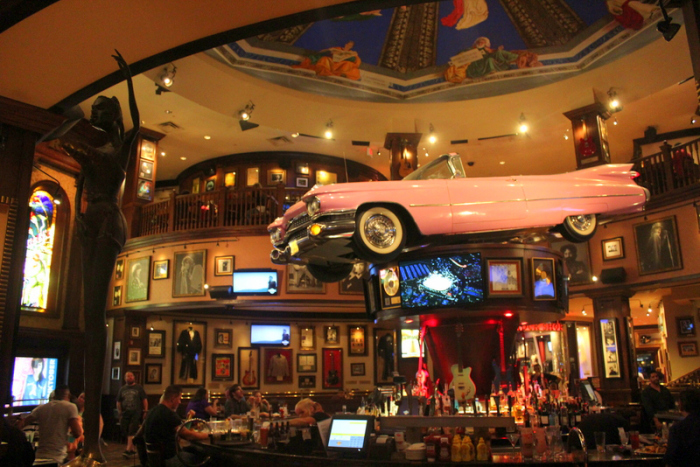 Jeremiah was our waiter, and he was attentive and helpful.  The food was ok, I had the salmon and we all shared the Jumbo Combo starter plate.  The décor is great, and the atmosphere is electric, with tunes from all the great artists with some great memorabilia on the wall.  If you're having a birthday there is a huge shout out – so be sure to 'dob' your friends in when celebrating.  The location is excellent if you have been at Universal Studios for the day as it is on the walk from one park to the other.  Overall great atmosphere with ok food.
Jumbo Combo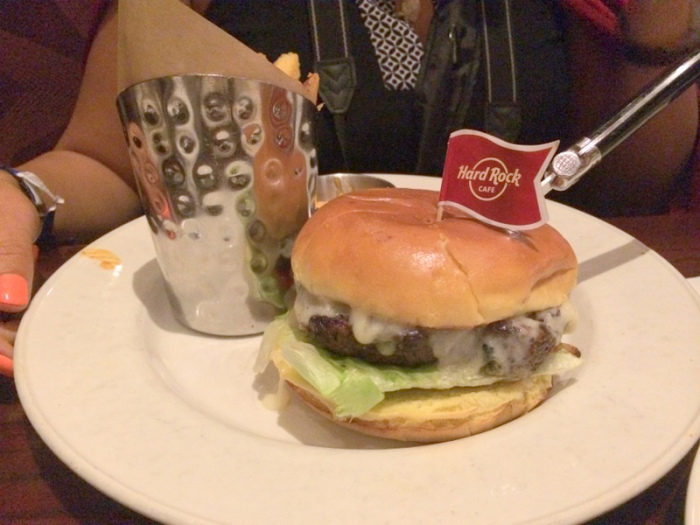 The Big Cheeseburger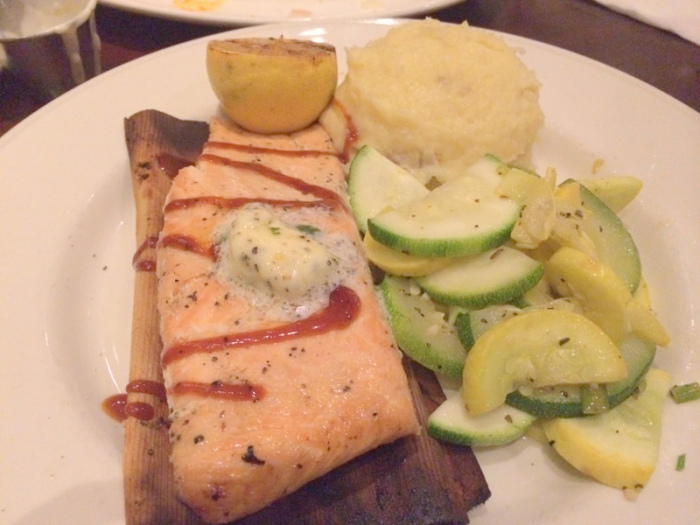 Grilled Norwegian Salmon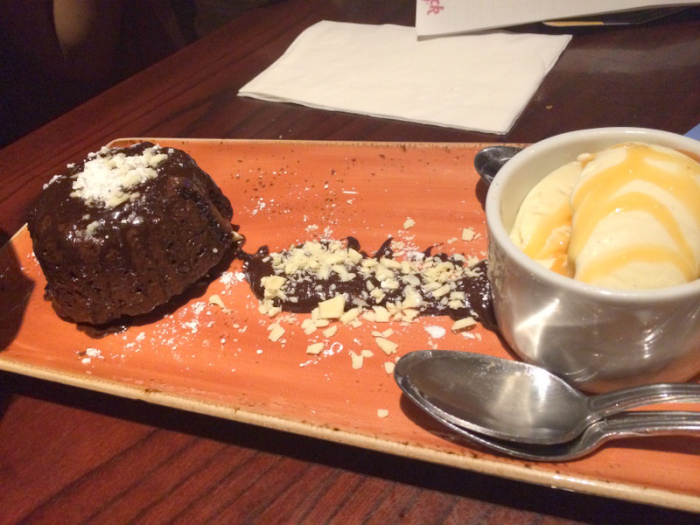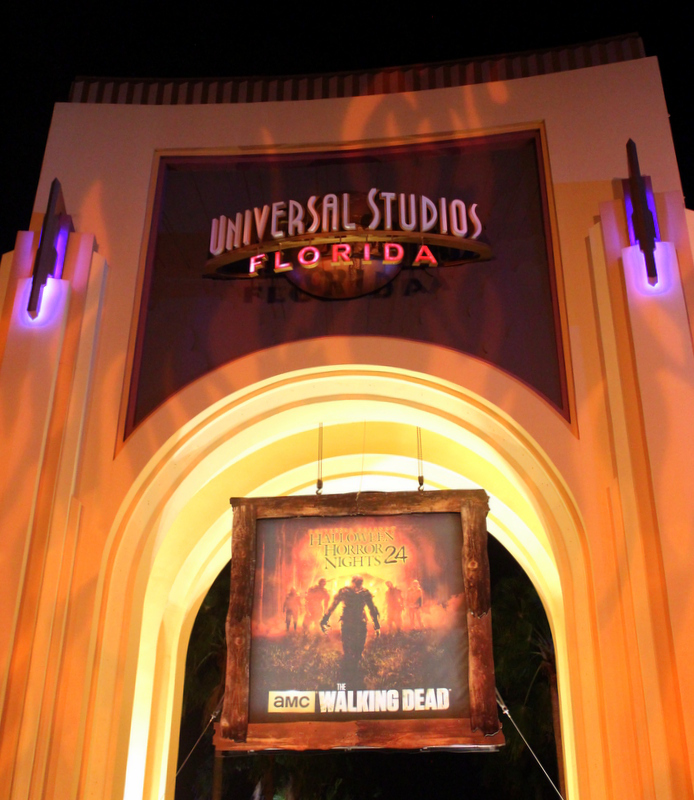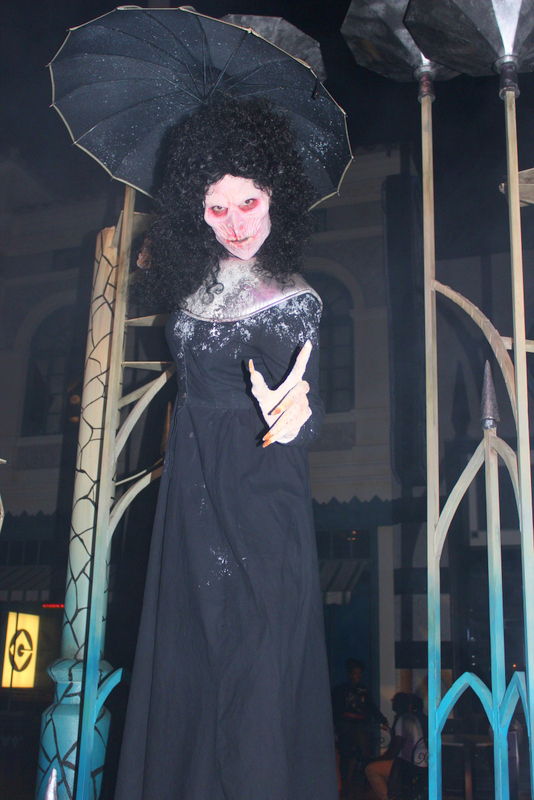 These are known as the stay and scare upgrade if you spend the day at Universal…. Unfortuntately, it was a little bit of a horror – but not in the way you imagine.  These tix were an extra $70 – tacked on from the day in Universal and opens around 7pm.  The whole Universal Studios Florida was transformed into a horror wonderland and the characters did a great job that were there – but the lines were minimum 2 hours long.  We only went in one haunted house due to the long line, and I'm sad to say but it wasn't great.  The Great America in Silicon Valley definitely does a better job.  Maybe it was because we went on a Friday night – but it was not worth it at all.
Stay:
We stayed only one night, the room was clean with a nice view.  The reception is presented nicely and is welcoming to all, whether you are a couple, friends or family.  They also have an excellent tour desk that sells tickets to all the attractions.  If you buy a ticket for the next day – you can get it quite cheap by attending a presentation that goes for about an hour prior to your day at Disney, Universal etc.  Book that with the attractions desk as soon as you get there.
Due to the short stay we didn't get to see the hotel amentities, such as the pool and the gym.  However, the entrance hall and the gardens are presented well.  There were a few sour points in our stay such as the shower – it was like a hose with no sort of predictability.  I needs to be changed with a new shower head.  Furthermore the room was not sound proof at all and you could hear people walking in the hallway.  The bed also didn't have a bed sheet, only a duvet/comforter.  On a brighter note the toiletries were nice.
Our friends stayed at the Gaylord Palms – Marriott, and it was lovely.  I think we will stay here next time, here are a few pics:
Travel to Miami:
We got a great deal on priceline for a car rental.  The drive is about 4 hours from Orlando to Miami, and it was a lovely drive.  Be sure to take the turn pike highway to Miami, it cuts down your drive immensely (there are tolls, but it is worth it!).
Miami:
Stay:
We stayed at The Tides and it was AMAZING.  This boutique hotel is in the perfect spot for the Miami scene.  It's classy with a relaxed vibe, I don't how the hotel does it, you feel as if you are in a sophisticated movie, but you can still let your hair down.  The staff were friendly and attentive, but not intrusive.  There is a restaurant, bar, gym and pool in the hotel.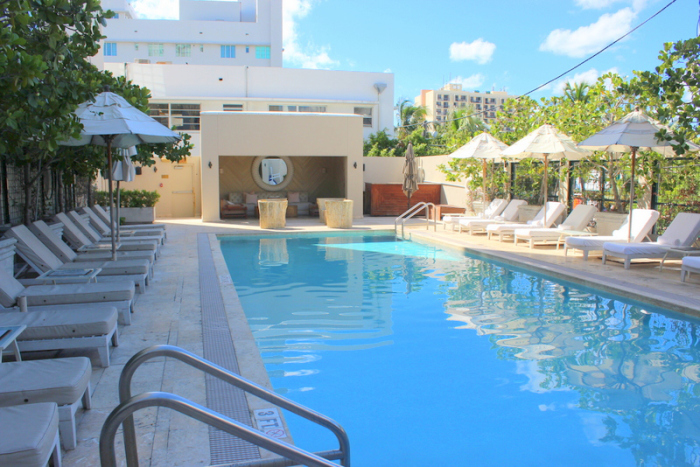 LOCATION, LOCATION, LOCATION
The crowning glory of this hotel is the view.  The beach view can be seen from every suite.  It's in midst of all the happening spots, with the beach across the road with nothing but the street to cross.   It's so easy to just walk to restaurants, party spots, the beach or bars.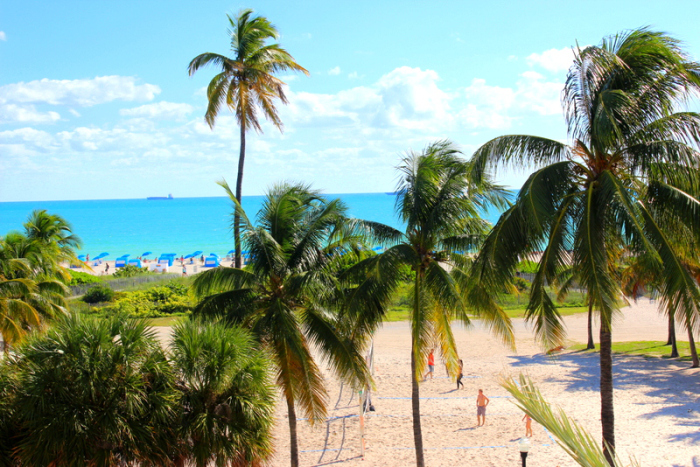 The hotel itself was consistently clean, wherever you go, whether it is in your room, lobby or pool the cleanliness was supberb.  What enhances this is the art deco interior with classy architecture that seems easy to upkeep.
All rooms have a huge walk in wardrobe!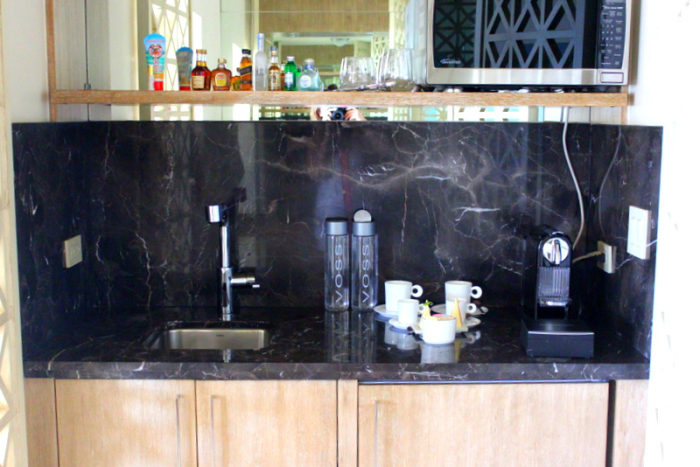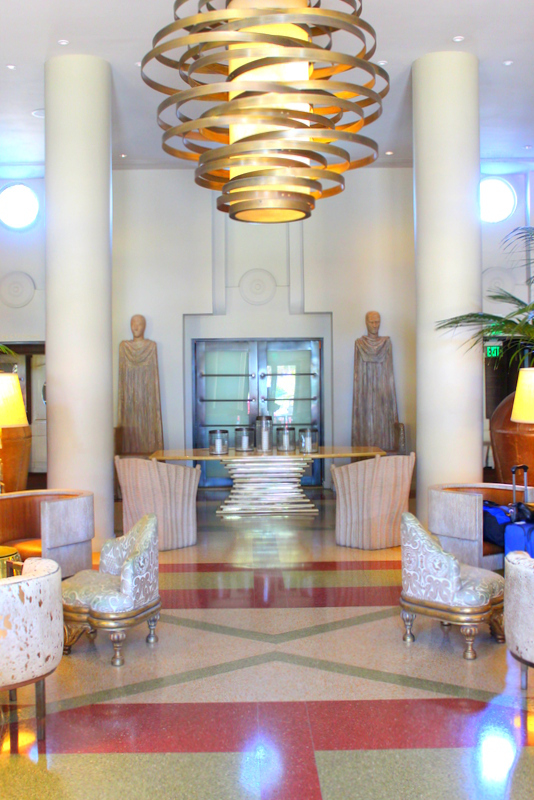 This is an attractive quality to have in a hotel, hence the reason why some of the big names such as Jared Leto, Spike Lee and Jimmy Fallon have stayed here.  This is also a place that honours a guests privacy, the staff are discreet and polite, probably why those in the public eye choose to call The Tides home when traveling to Miami.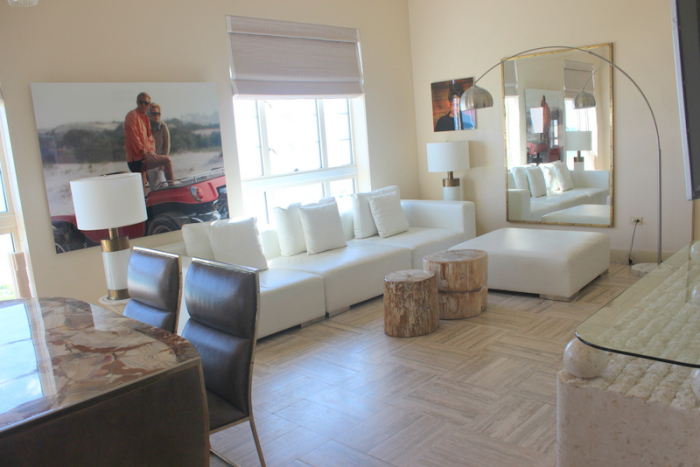 The mirrored bathroom:
The pool in the hotel is one of only very few in Miami where they don't require a payment to stay in the cabanas by the pool.  It is first come, first served.  You also get two complimentary beach chairs, umbrella and towels at the beach – which gives you a sense of Europe in Miami.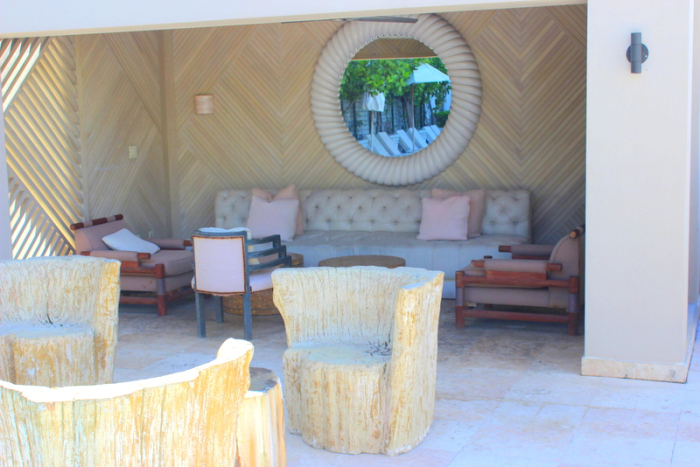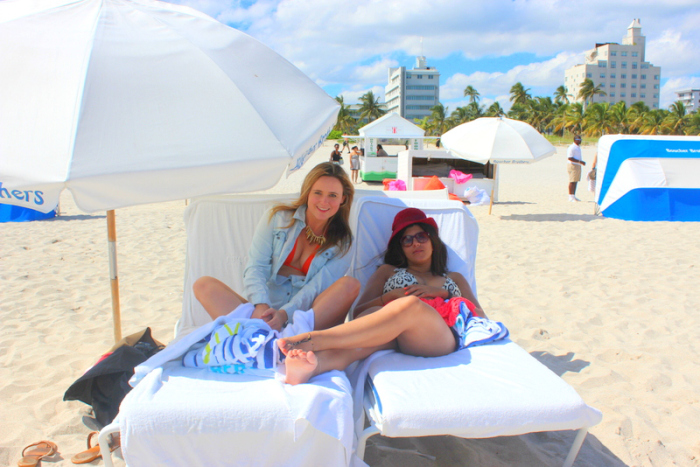 The stunning top floor suite is dedicated to your comfort and privacy.  A stunning room with an even more stunning feature:  your own roof top.  The roof top is your own private oasis, with un paralleled views of Miami.  It has a shower, soaking bath, lounging chairs and table.  There have been bachelorette parties, wedding receptions and proposals for marriage done here.  This would be the perfect spot to propose to your future husband or wife.  If you organize for your future spouse to follow the line of candles to the rooftop, where it is lit with a sea of candles, a beautiful meal waiting with roses and music – I don't know how anyone could refuse!
The room that we stayed in was huge.  The four of us were in a two bed room and there was more than enough room.  There is a generous walk in closet (you could even fit a cot in this room, as it's almost the size of a standard bedroom)and  the bathroom was modern and clean.  The beds were, oh so, comfortable (I normally sleep horribly in hotel beds, as soon as I hit the pillow, I was out).  There is FREE Wi Fi throughout the hotel and all the rooms are equipped with an i pod docking station.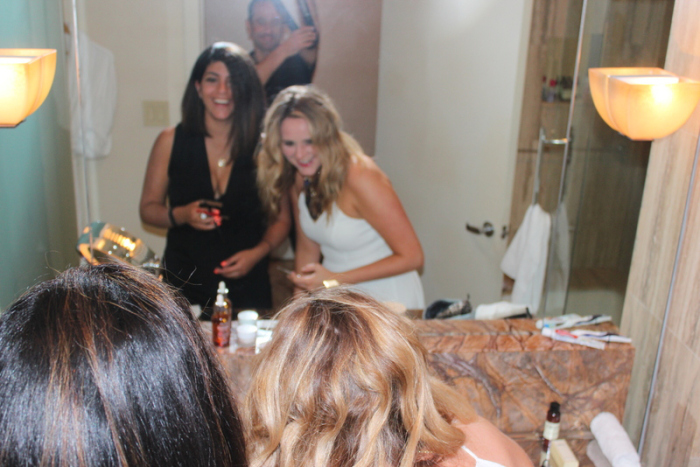 We could all fit in the bathroom!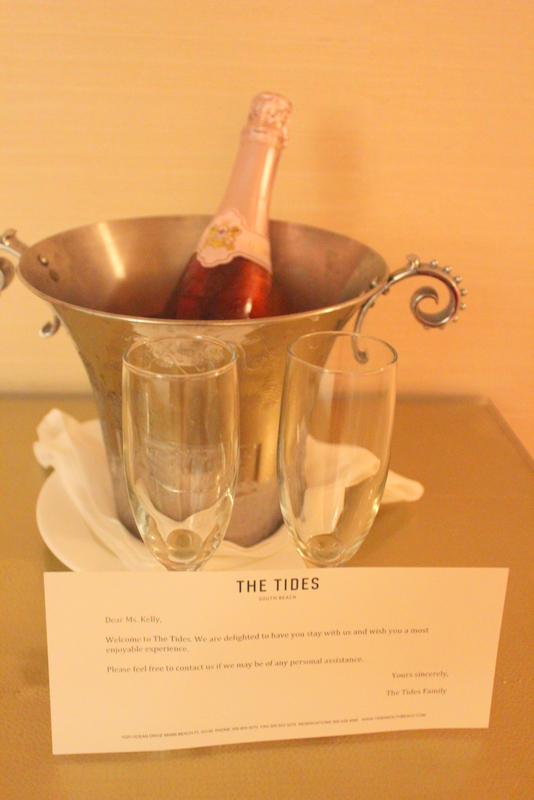 Huge room with huge mirror – more then enough space!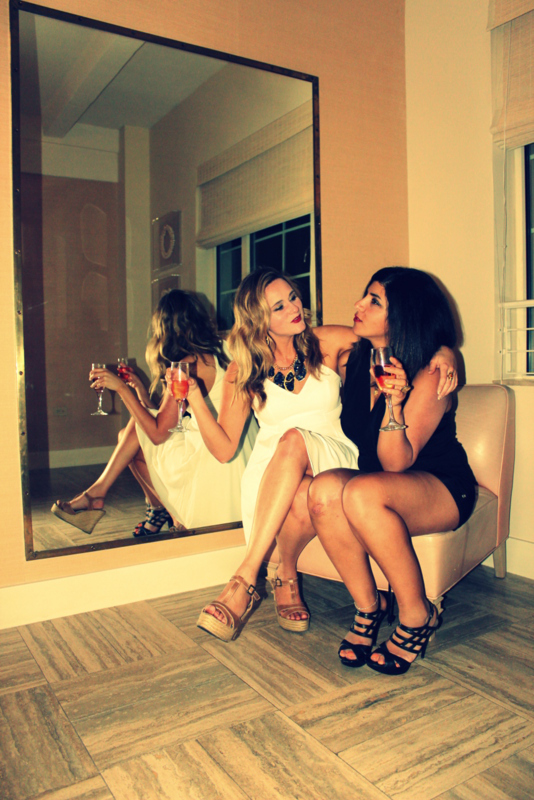 Overall I would stay here again, and again and again.  Congratulations to the staff for making this art deco hotel a comfortable home whilst we were in Miami!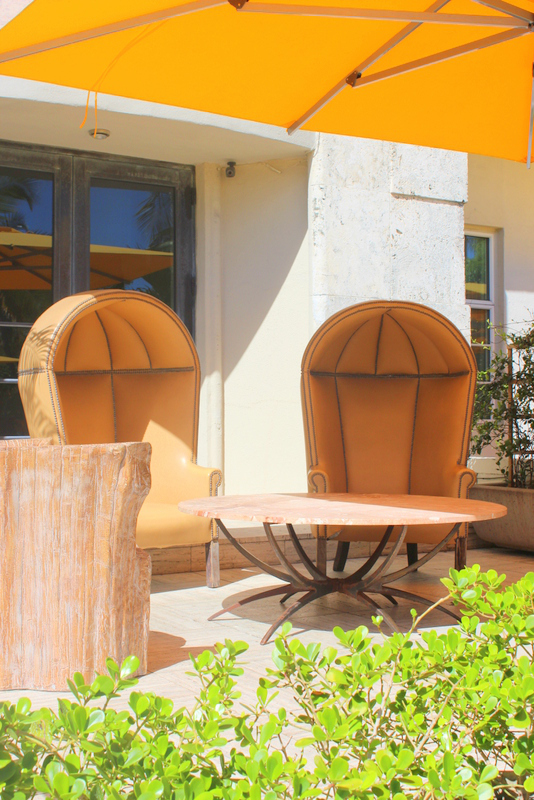 Fun fact:
The Tides was the first high rise building in South Beach and has uninterrupted views from the top floors.  It was also the first hotel to have an elevator – which is quaint and suits the art deco style of the hotel.
Eat: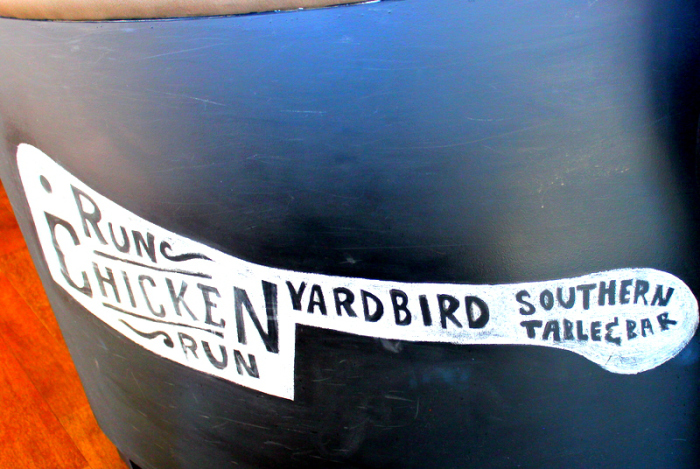 MUST, MUST, MUST
You can't go to Miami and not eat here.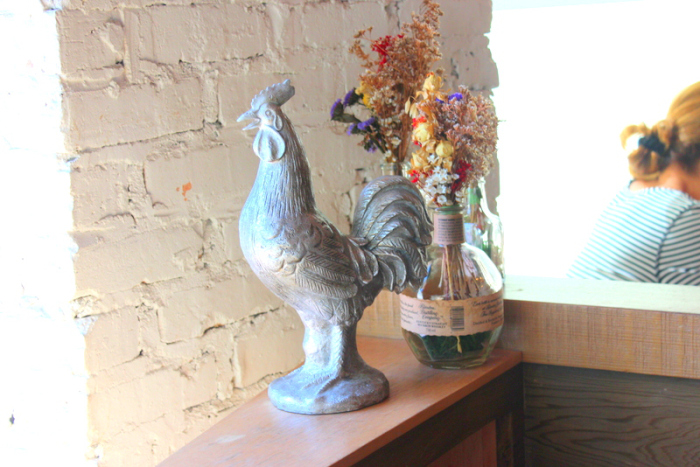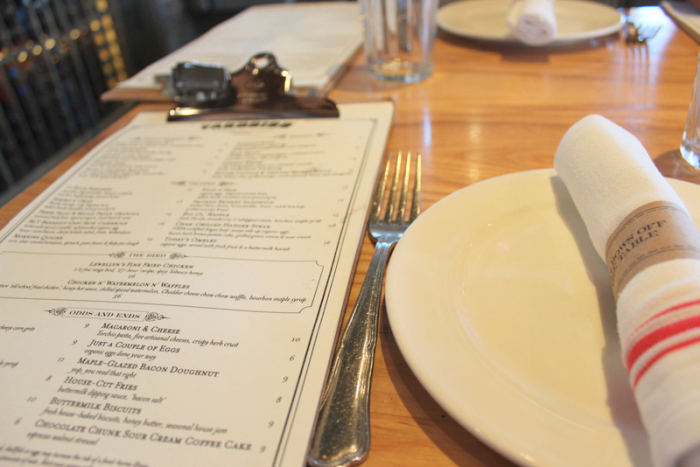 Heaven in your mouth is not an understatement.
Our brilliant waiter was Zack and he enlightened me on the Yard Bird story.
3 years ago the owner John Kunkle owned a burrito place.  He had a dream to make a fried chicken hot spot in Miami.  He was told that a fried chicken restaurant in Miami South Beach would never take off – badda bing, badda boom- it is now one of the hottest spots to eat.
We had: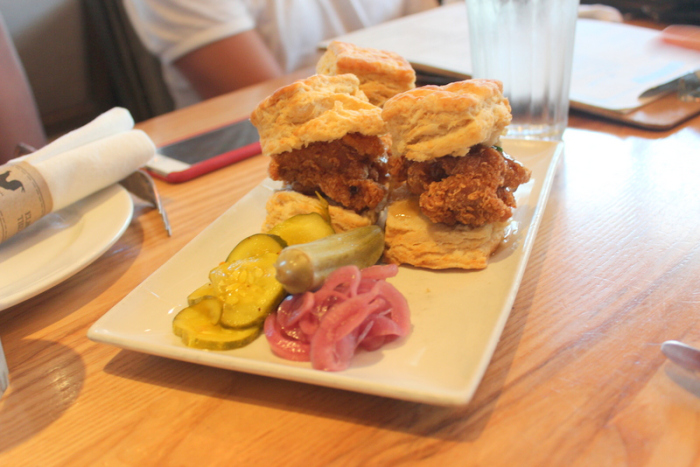 Eggs benedict
Granola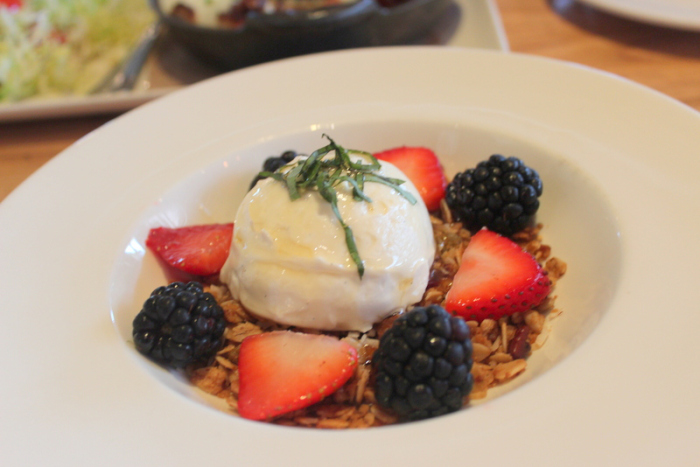 Shrimp and grits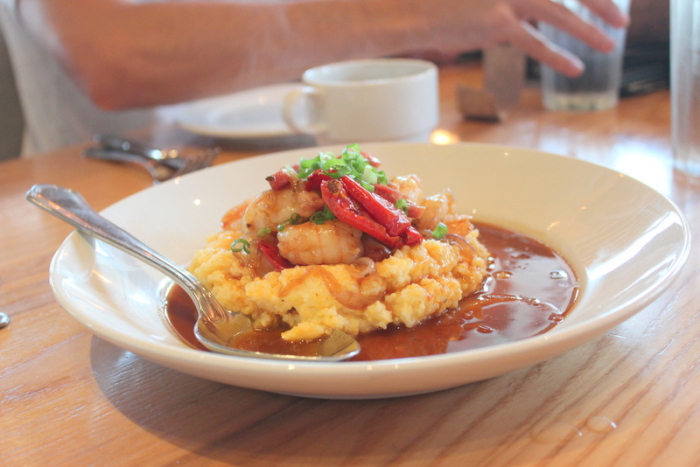 Salad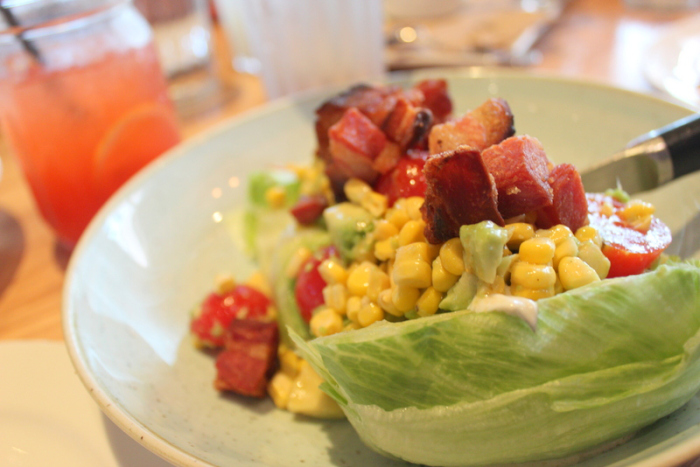 Eggs and ham
Omlette – (no meat)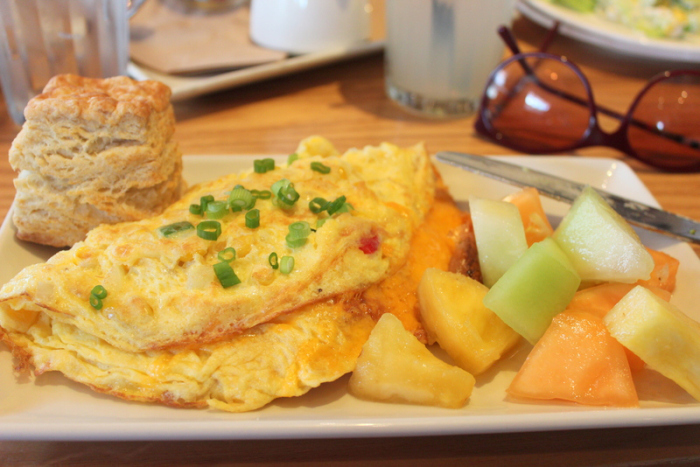 Steak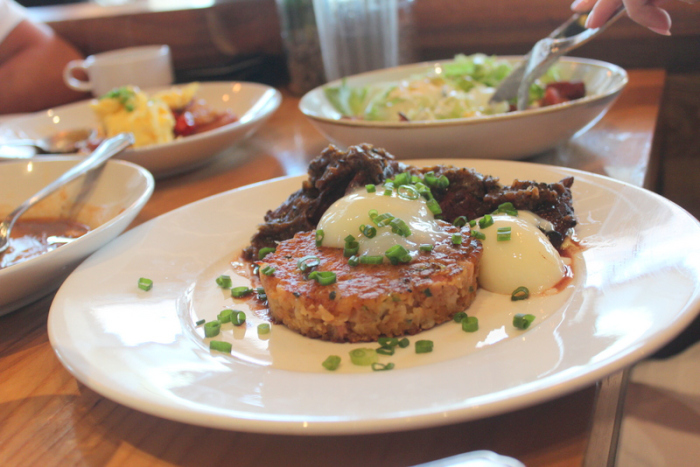 The smashing fried chicken recipe is the brain child of his Grandmother Llewelyn.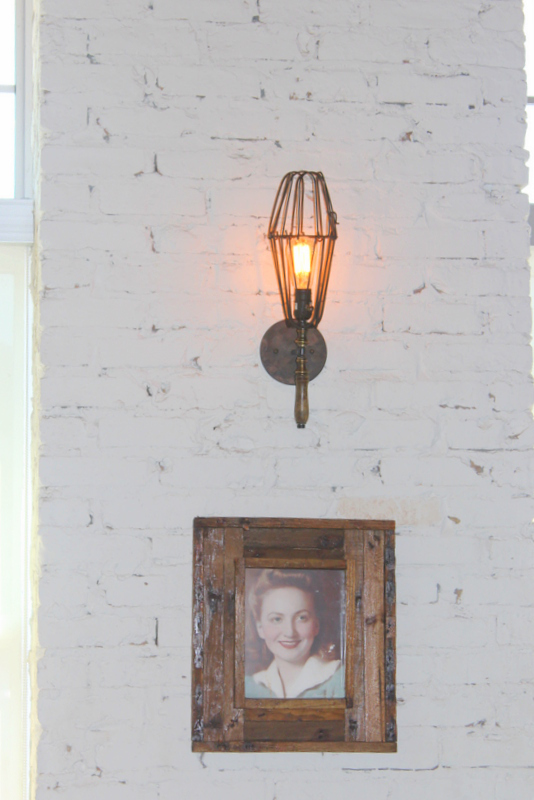 Fun fact:
The group that Yard Bird is apart of is called 50 eggs, named after a movie with Paul Newman called cool hand luke, where they bet that the character of Paul Newman can't eat 50 eggs – and he does.  Just like they thought John Kunkle could never open a fried chicken place in Miami, and voila, he did.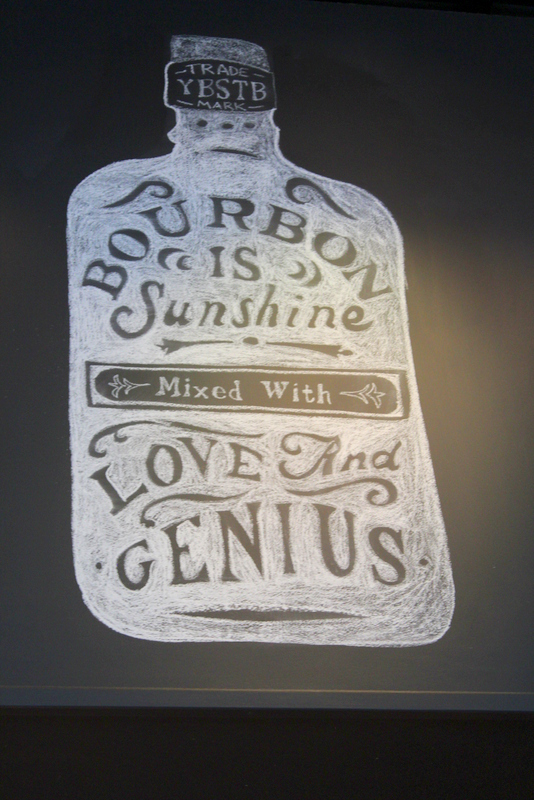 Established in 1962 it's easy to see how this very grungy looking … café has been around this long.
We started with the chicken wings – and had to order them again they were so delicious.  Then I had the Roast Chicken (#22), it was good but my only complaint would be the chicken was very dry.  My friend ordered the Oxtail Stew (#17) and it was delicious.  We asked the waiter for the most popular dishes and he said these – so apart from some dry chicken it was delicious.
This is a super upscale hotel and the restaurant reflects this.  You are ushered to your table and you are immediately in a state of luxury, the view, the chairs, the candlelight calls for a romantic evening.  We were 6 friends altogether so there wasn't a romantic need – but it was certainly appreciated.
I ordered the veal ravioli, and it was a very small serving.  It was ok – not amazing as you would hope with the price tag.  However I think the hotel makes up for it with the pool side bar, with beds and chillout music.  You also are able to enjoy the hammock and life sized chess board, a ++ after the meal.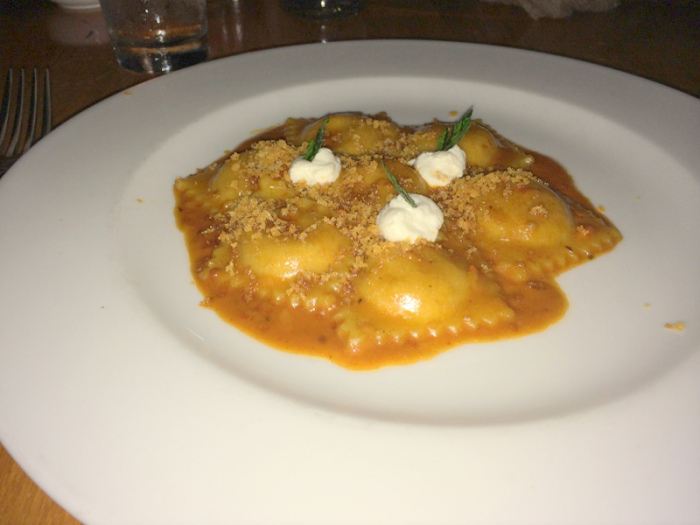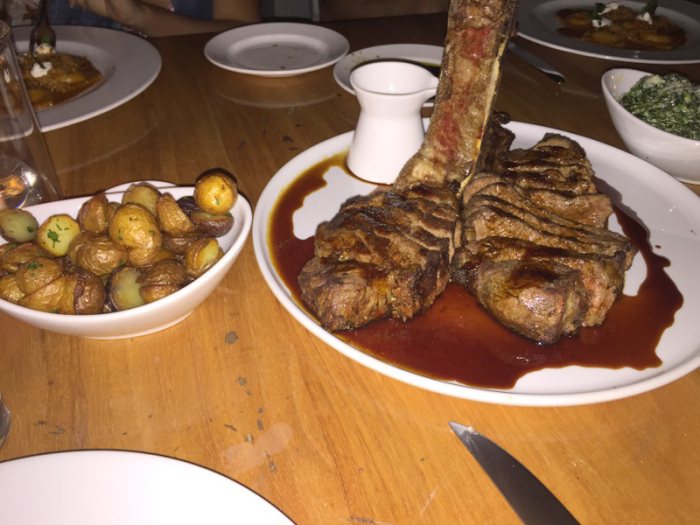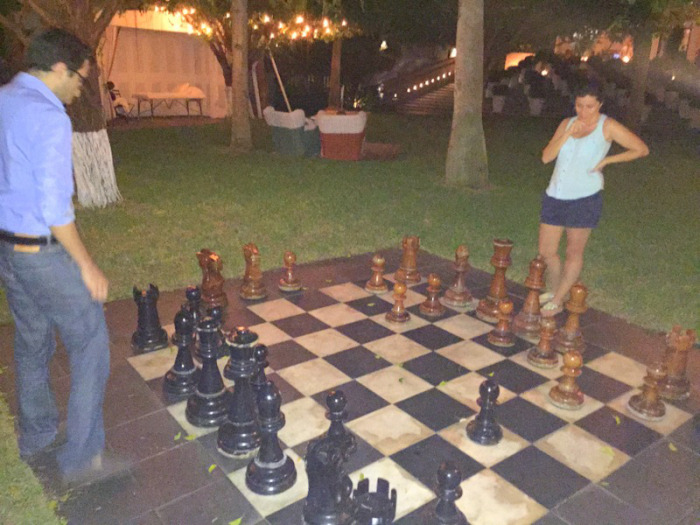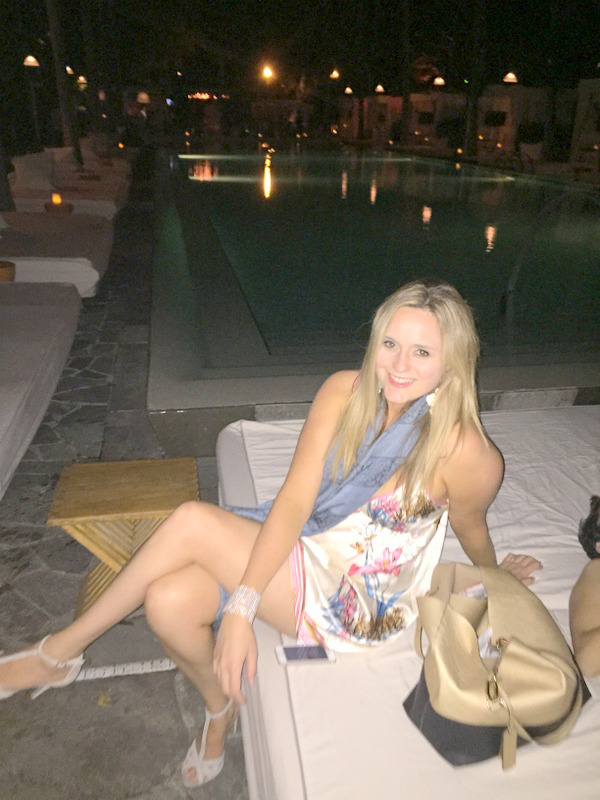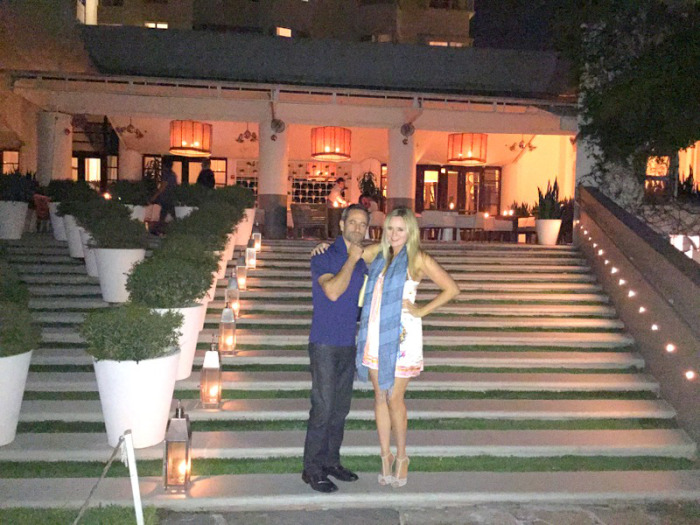 This is one of the many restaurants on Ocean Drive and I think they are all pretty similar.  We ate the bruschetta, veal and pizza which was certainly – not amazing.  However the wait staff were attentive and our friend bought an espresso martini and then got another free drink.  Overall this place is good for drinks and people watching, I probably wouldn't recommend for the food.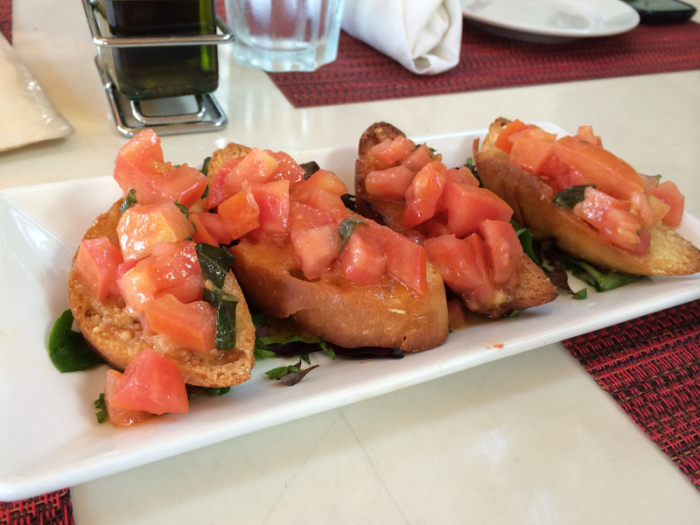 After all this dense food it was time to wash it down with some fresh and fast food.  So come along La Sandwicherie.  This is a hole in the wall café with the best smoothie and sandwich I had the whole break.  I had the rainbow smoothie and half of the cheese sandwich.  The smoothie is made on real fruit – yay!  The sandwich had the freshest tomato I've had in the USA and the mayonnaise was unique and delicious.  Be sure to stop here!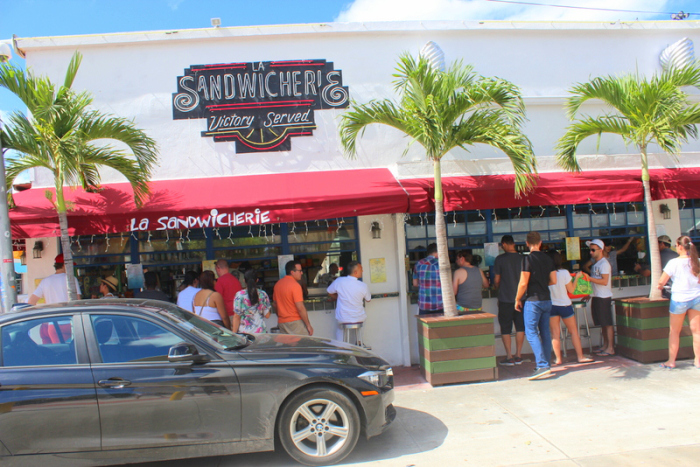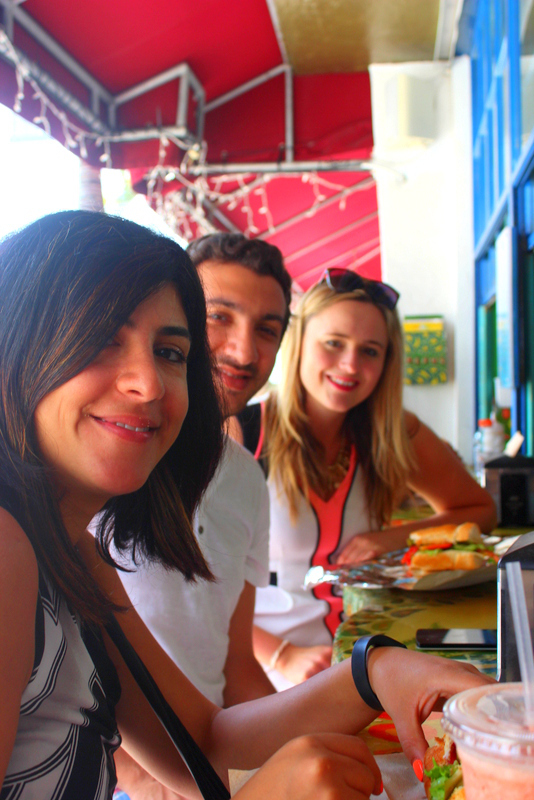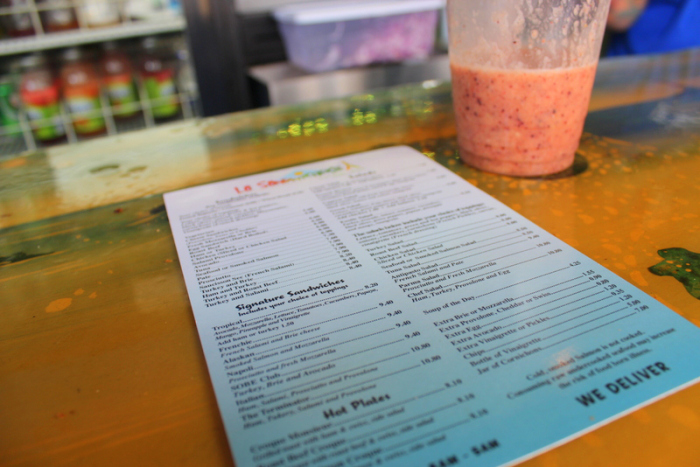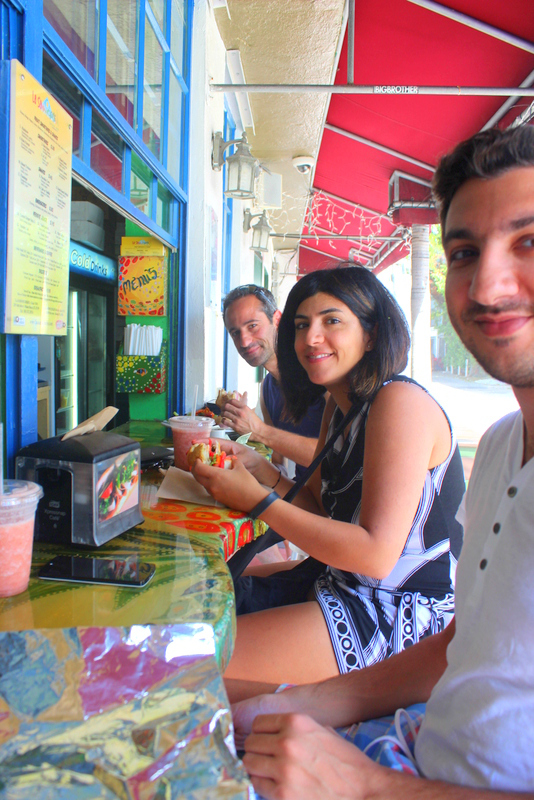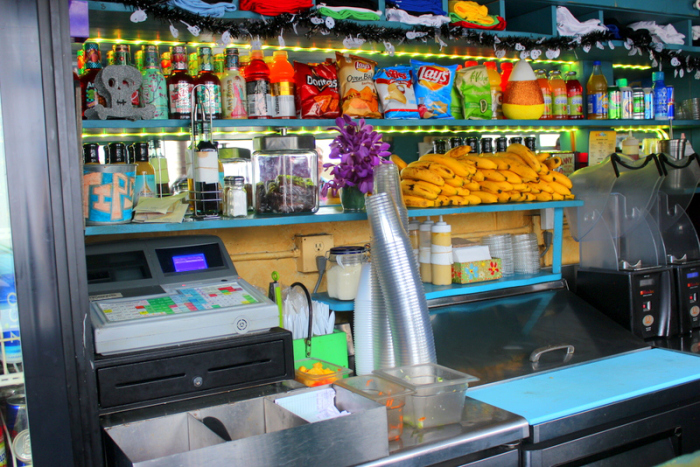 A cute road filled with great restaurants from Greek, Italian and everything in between.  Worth perambulating through and experiencing the cultural cuisines.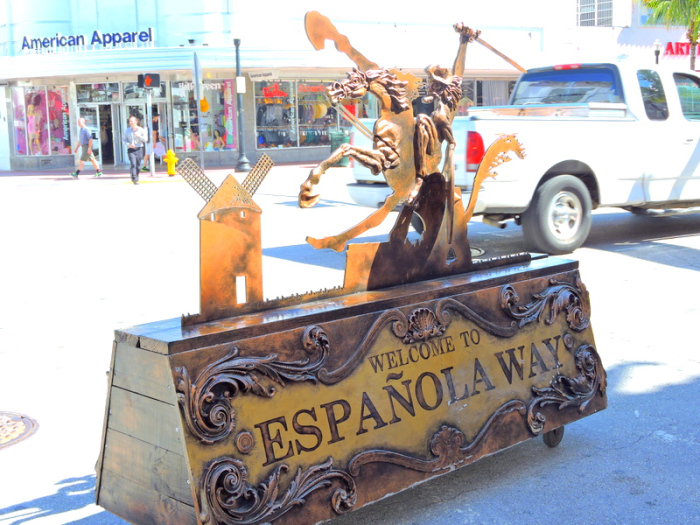 Drink:
This is a gay bar next door to The Tides hotel and is extremely popular for straight, gay and all the rainbow in between.  They have a great atmosphere  with drag shows and drinks – great for people watching.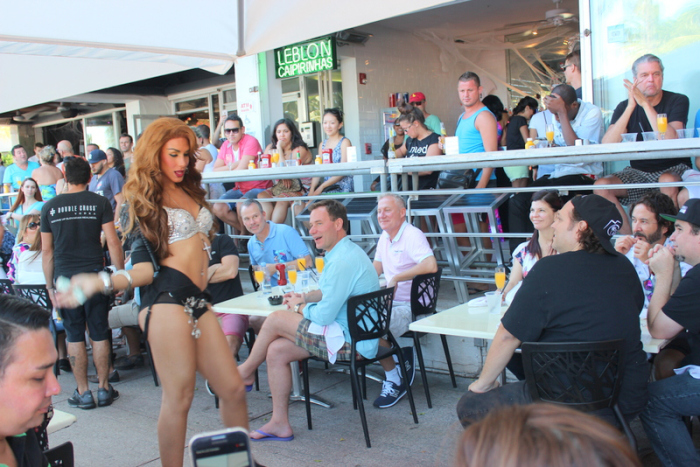 A great lounge bar/restaurant by the beach.  A must see and do when in Miami.  Be aware that if you want a lounge bed in the mix you will need to bring min $350 for bottle service (without tips etc.).  You can however sit by the bar or in tables around the action.  This place has a chilled vibe that only sunny days by the beach with a cocktail in your hand and some beated tunes can provide.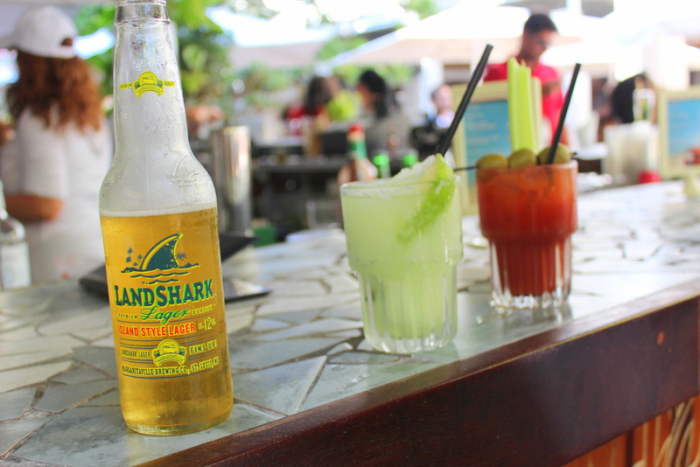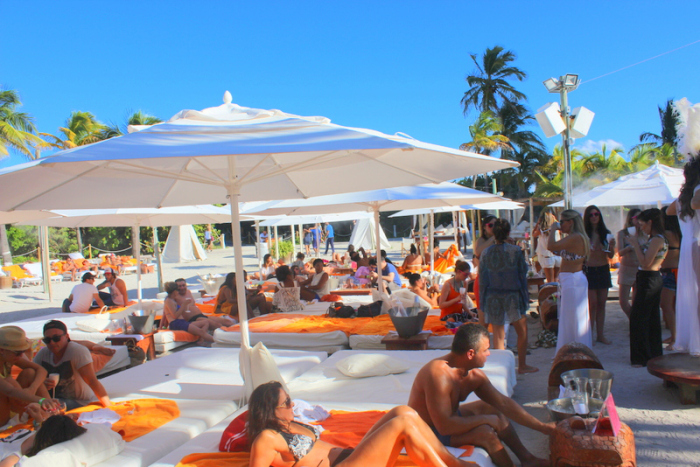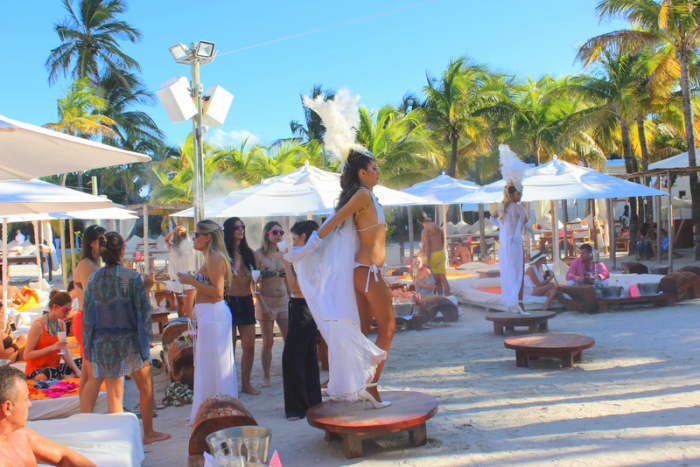 A hotspot with dancers (actually dancers seem to be all over Miami, but they did seem pretty obvious here), drinks and a DJ that lets it rip all night long.  It's an outdoor club/bar that is on ocean drive.  It's  always full of tourists so if you're looking for a multicultural venue this is the place!  The staff are also attentive here and always have a smile on their face.
Also while you are here, check out the roof top bar they have.  It's standing room only unless you buy a table.  But it's nice to see a roof top bar and be in the mix.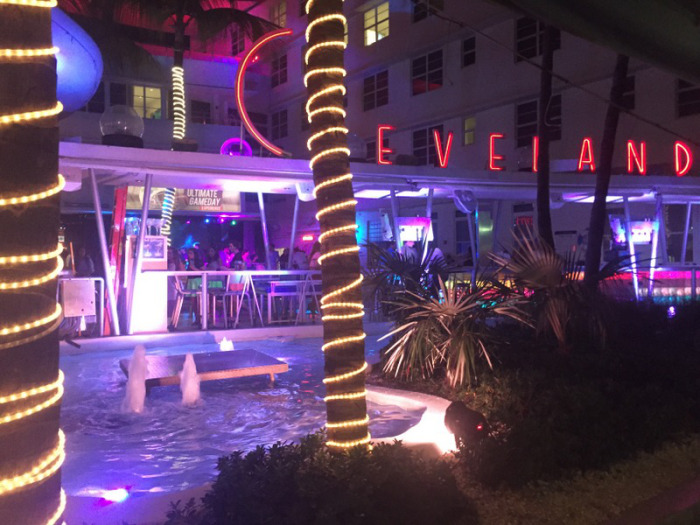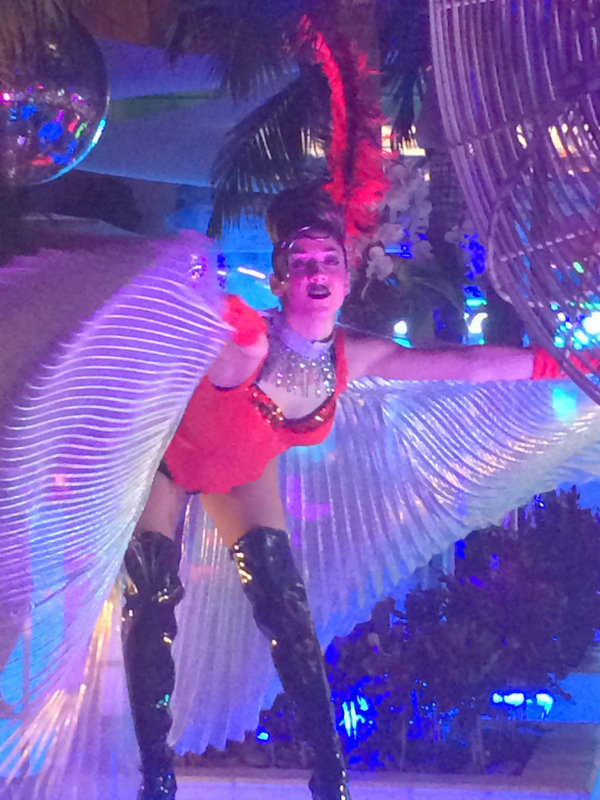 Flights
To get home we travled United again.  We did leave on Monday in the early evening.  Warning: give plenty of time to get to the airport.  We forget there was peak hour traffic and got stuck and almost missed the flight…
Throughout our whole journey we traveled with Uber – so much easier and nicer than a taxi.
Blessings as always – have safe travels!
Dany x
(Visited 235 times, 1 visits today)