It was going to be epic…. 4 (single) girls traveling to Bali for our friend Marcelle's 30th birthday.   Here's a snapshot of how to do Bali with girlfriends.  Gird your loins, it's about to get cray cray up in here.
Flight



I caught Singapore Airlines flight that went from San Francisco (SFO) to Denpesar (DPS) Bali.   There were 2 stops on the way one in Hong Kong and then another in Singapore.  Overall I would highly recommend Singapore Airlines.  As soon as you are seated they provide you with a hot face towel to refresh, this was amazing, particularly on my second routes from Hong Kong and Singapore.   After you have settled in they come around and give each passenger the menu for the flight.  This added with the hot towels gave the flight a touch of elegance.  The food was delicious and the Singapore Sling (the cocktail created in Singpore) was perfect.  As standard on long haul flights they provide a pillow and blanket, even a bag with socks and personal items.
Arrival Visa
The cost for the Visa on arrival is AUD $46 or USD $35.  I would recommend having the correct cash to provide as I didn't see any ATM's.  They will give change in IDR.  Only 30 day stay in Bali
These people run through a pretty comprehensive list.
Taxi to hotel
To get from Denpessar to Ubud cost around $25 USD or between $260000-300000 IDR.  This is a very good price as the hotel shuttle was going to be $45 USD and another taxi service that a friend had previously used was going to be $40 USD.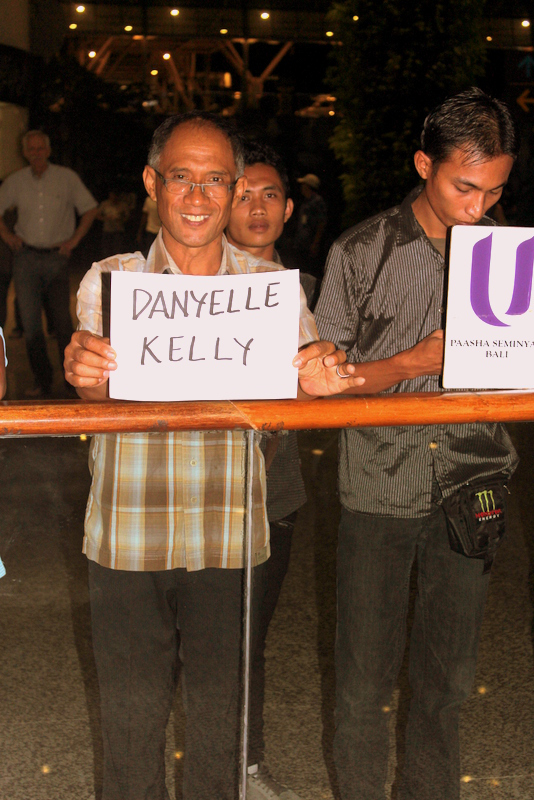 I would recommend Nyoman, if he isn't available he has a team of people that can assist.  He also has links to  tours (we got our white water rafting tickets half price due to his links).  A taxi service in Bali goes for 10 hours a day and is 500000 IDR for the 10 hours.  This is an excellent price.
Ubud
 Stay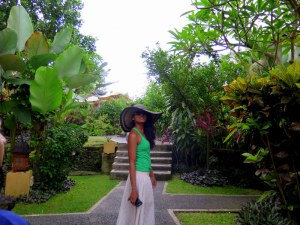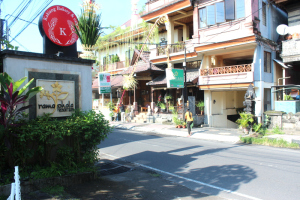 This is located in central Ubud.  If you're interested in going to yoga workshops and perusing the Ubud area this is perfect.  It provides free breakfast :
We stayed in a courtyard residence.  There was no kitchen, but there really was no need for the kitchen.  The food around Ubud is delicious and priced well.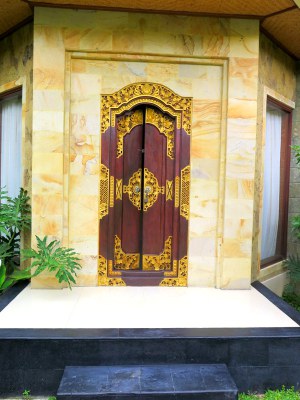 I think the best thing about the residence is the bathroom.  You have a semi out door bathroom, which is beautiful.  The shower itself is fully outside, whereas the the bathtub, toilet and vanity are inside.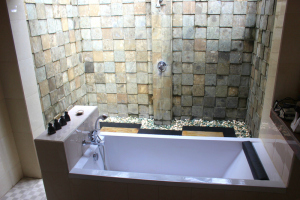 The room is comfortable and has a door that opens out to look down onto the courtyard.  We had a four poster bed, which is essential for the mosquitoes and having a curtain to keep them out.  The curtains were a bit dated and certainly needed a clean.  Due to the climate there is a lot of upkeep that needs to happen with fabric (it's humid and that encourages the build up of mould).  I only saw small spots of mould on the curtains and the fabric above the bed, it was something I would certainly recommend fixing.
There is a pool to relax and get cocktails and sit with girlfriends.  Unfortunately while we were at the pool, there were cigarette butts and ash on the ground which was a bit of a turn off.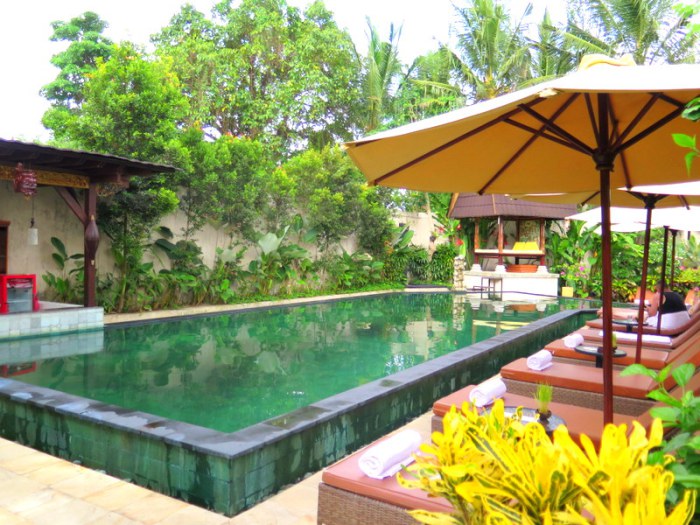 Overall for $… it was good.  There was enough space and it was central for shopping, yoga etc.
Eat
You are missing out if you don't go here to eat, it is delicious.  Even if you are only day tripping to Ubud, Indus is the place to eat.  I first got introduced to this place on my first trip to Bali; it's safe to say I will be back again and again and again.  The best time to go here is for lunch.  There is a beautiful view overlooking the Bali hinterland.  A perfect photo opp!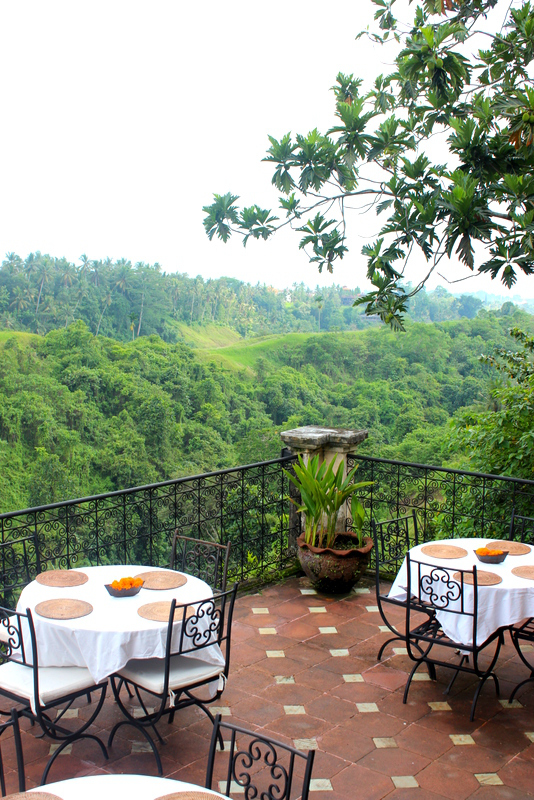 Tofu and eggplant: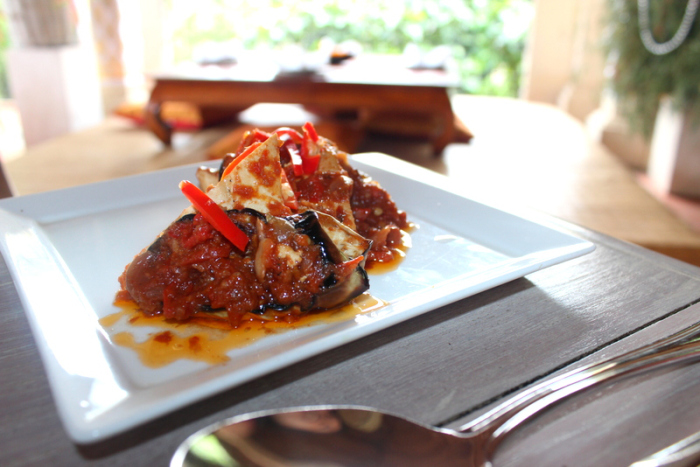 Beef Rendang: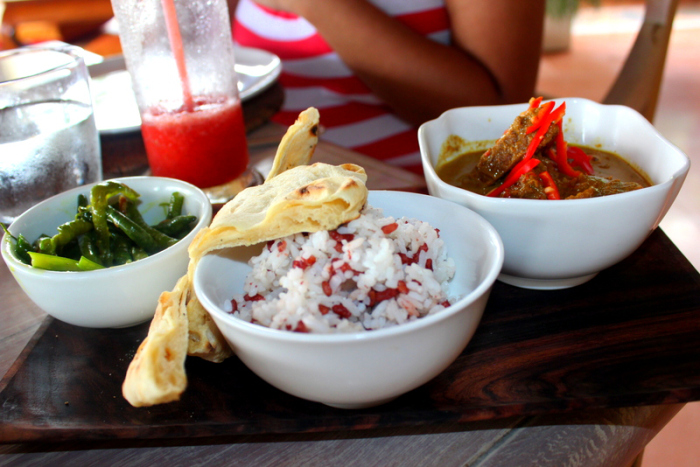 Prawn rolls: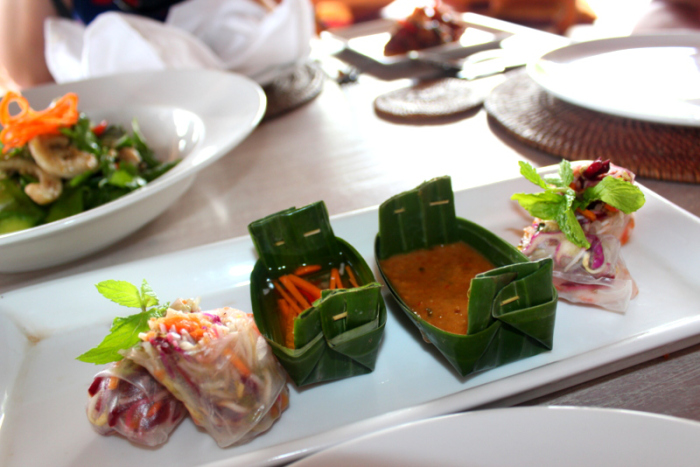 Octopus and avocado: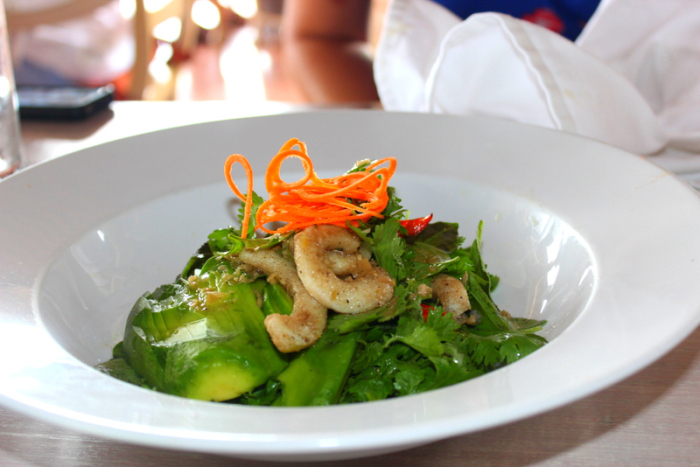 Banana crepes & Blueberry cake – (the only thing that wasn't good)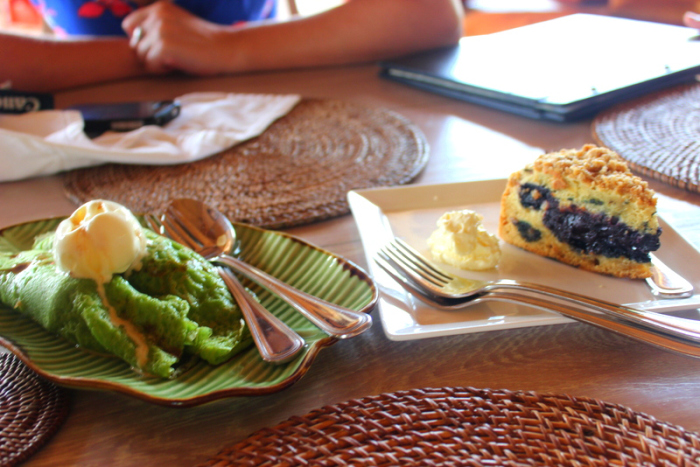 Strawberry juice, iced coffe and coconut juice (yummmmmm!)
Wow oh wow is all that one can say about this little hidden treasure.  My friends  said to not write about this place as it is so amazing (and keep it as a secret).  But, now, the secret is out and if you don't go to this restaurant when you are in Ubud you are doing yourself a disservice.  You are escorted to the restaurant by golf cart and there you await the hidden glory that is Swept Away.  The name itself is apt as it is overlooking a river.  If you are in the mood for romance this is the place to take your partner.  The staff are attentive but not intrusive and provide quality service all the way to a warm face/hand towel when you arrive.
We had:
We woke up and were ready for a coffee fix – but where to go!  All signs pointed toward Seniman Coffee Studio.  This brilliant coffee shop has a Manual Brew Bar and scrudidliumptious goodies.
Wow, oh wow.  And you thought food heaven had already hit at Indus.  This was a delicious Mezze platter that we shared prior to partaking in a Tibetan Singing Bowl Meditation.  The hummus was to die for.  I would fully encourage experiencing this authentic food experience.
Mezze Platter: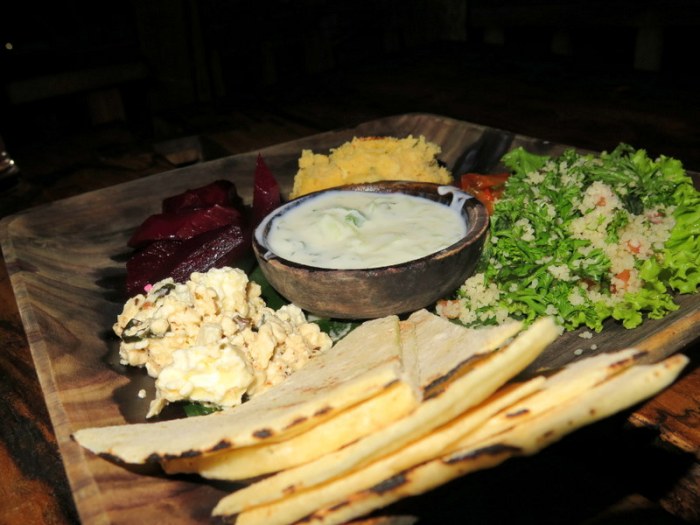 Activities

This happens at Yoga Barn on Tuesdays and Saturdays from 8-9pm.  You need to arrive at 6:45pm to put your name on the list and buy a pass (120000IDR).  This was a truly magical experience.  We all walked out of the room lifted.  Such a special experience to be apart of.  The teacher took us on a journey of pure peace through the music of the Tibetan Bowls.  It was more then music though.  The atmosphere was serene, the room lit by candlelight.  Initially the instructor came around and cleansed the room and each person with sage.  We were asked to be in the lying position.   After the sage the instructor then came and rang the Tibetan bowl over each of the participants bodies.  We were asked to reflect on any requests we have and offer them up during this meditation.  My friends had profound experiences.  I also had a profound experience, but one that is hard to articulate.  Much like when I do the blind Café (see my post on that), I had a going back to the womb experience, however there was a lot of light in my heart here (compared to the Blind Café) – I think it was due to being outside and the space being open air.  But who knows!?!
If you have the opportunity, take part in this relaxing experience, you will have the opportunity to dance with your subconscious.  Arrive early as the spots fill quite quickly.
This hidden spa oasis is in the middle of rice paddies just off the one of the main roads in Ubud.  It is a sight to behold.  We each got different spa treatments, I got the 1 hour relaxation massage and added the 30 min foot reflexology.  Coming to a total of 240000 IDR, what a great price!  It is traditional Balinese style, and the room offers no air conditioning, so come prepared.  However, I walked out of the spa on air and so did the other girls!
Kash our Yoga guru spent her morning here.  A little way away – however, if you're looking for quality this is the place to go.  For the #1 Bikram Yoga competitor in Australia it would be wise to trust her advice!  Check out Kash here.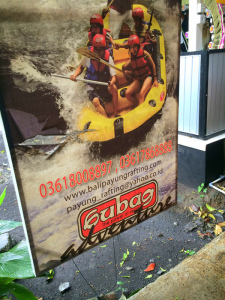 Whilst Kash was off yogaring, we decided to try some white water rafting.  And boy was it great!  On arrival you are given you oar, a helmet and personal floatation device.  Then you are directed to the rafting departure ramp (essentially, this is just a nook off the river). There is around 400 stairs to climb down, so this is for those who are ready to rumble!  The walk itself is quite beautiful.
Once in the raft the lead instructor directs all of the 'crews' (around about 6 other rafts) the safety instructions.  After that we're off on a 2 hour adventure in the winding rapids of Bali.  It was fun, exciting and professional.  I would recommend all who are interested in a bit of adventure whilst in Bali to head there.
The cost was around 350000 IDR.  Around $35 USD.
Seminyak
 Stay
The stay here was cozy and comfortable.  It is studio room style apartments and is perfect if you are not spending a great amount of time in the resort.  They are cost effective so are perfect for the thrifty traveler.  In saying that they are also very clean, central and would be what you would expect in a Holiday Inn or Hilton.  The staff are attentive and the resort provides free breakfast (buffet style).  There is a pool and they provide 15 min complimentary massages per person per stay.
 Eat/Drink
Café Bali

I had the pleasure of being introduced to Café Bali by my good friend Lina the first time I came to Bali.  This place rocks my socks.  It's a bar that has hidden gems around every corner, you will see an Asian, French, mid colonial American and modern influences throughout – you would imagine that this bipolar mix would end up in a scrambled mess similar to when you do a painting collage and it all ends up a dark shade of brown once mixed.  THIS IS NOT THE CASE – if I could get my house to look like this successfully I would be a happy woman.
It's beautiful.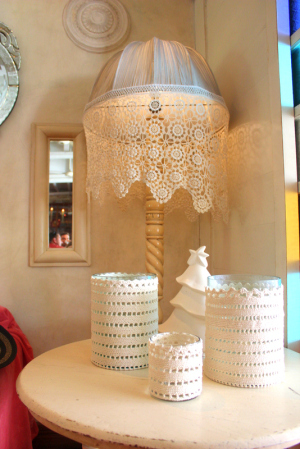 Now onto the food…
What can I say except for: amazing.  Much like the architecture, the food too has many influences, but they too all work together!  Just see the delicious meals we had….
This has to be hands down, one of my favourite restaurants in the world. If you don't come here when you go to Bali – you're missing out, and I'm deadly serious.
On my first trip to Bali I saw this restaurant out of the corner of my eye and said – we have to go here!  We all went and all fell in love.  The meals are delicious and the service is great.  I would suggest booking as it's popularity has grown exponentially and they book out every night.  If you go online you can book there.
Lello Lello
This is a gorgeous gelataria hidden down some back streets…  It is clean, well presented and most of all it has delicious gelato!!  I got the double scoop dark chocolate and pavlova and was taken to sweet heaven.  What more can you ask for on such a hot day but delcious handfuls of gooey gelato soothing your insides.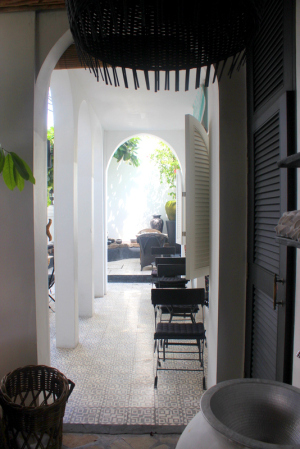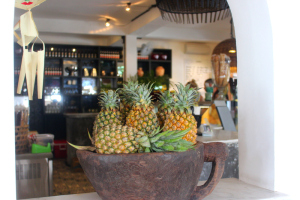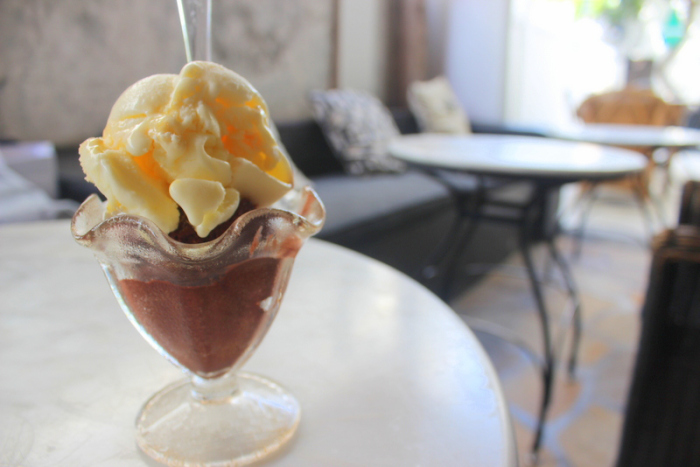 Next door is a surpise find, great Indian food.  Unfortunately I didn't have the opportunity to try it but from all the reviews I read Petite India is a great place to eat, num num num.
This bar is also on the top 5 bars to visit while in Bali.  It's spacious, with a pool and different bar areas.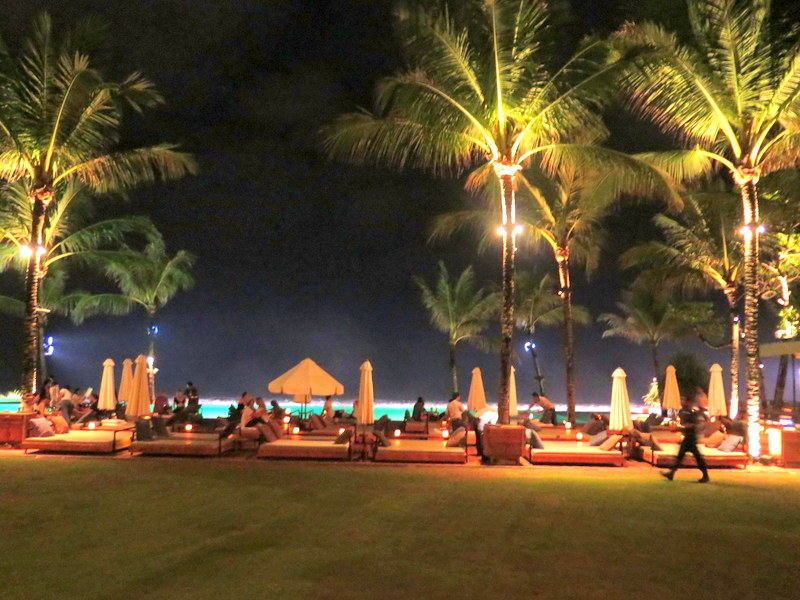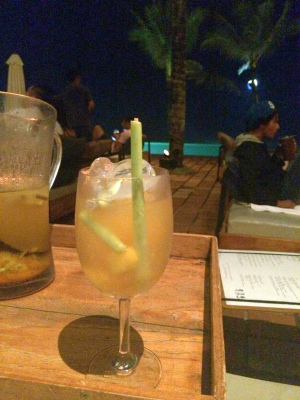 When you walk in, it's almost surreal, like you are walking into a haunted house.  There are wooden window shutters lining the walls high above.  The hostess then greats you and politely advises that there is a minimum $50 USD spend to enjoy Potato Head.  Having been there before I knew of this policy and I was keen to have their Sangria again.  We got a pitcher of Sangria and enjoyed the evening overlooking the pool and ocean, listening to soothing beats.

KuDeTa is a chilled bar and restaurant overlooking the beach.  People come here to enjoy the tunes and great atmosphere.  An additional benefit to this already relaxing place, is great food and drinks.  Waiters are prompt, attentive and relaxed.  You can spend long afternoons here, talking with friends, meeting new friends or just enjoy swimming on the beach while your loved ones look on!
Activities
I got the Morning After Massage (page 5) and I escaped to pure heaven.
Let me start from the beginning, I was feeling a little restless due to the severe lack of massages thus far – so I decided to treat myself and searched for a massage with an experience.  Go no further peeps!  I arrived and was greeted warmly, I was then ushered into the change room which has a steam room, cold plunge pool and heated Jacuzzi.  Prior to my massage I spent probably 20 mins darting between the Jacuzzi and the steam room so that I would be as relaxed as possible for the massage.  I then robed up and went to the waiting room for my therapist to come and start the massage.  The waiting room is stunning!  It looks like a plush room you would see in a space ship, there is mood lighting, an oxygen bar and deep colored lounges.  I felt that maybe my lungs weren't working as well for me as they should so on went the oxygen mask.  This is a nice touch whilst waiting.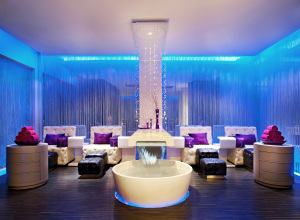 Then it was time for the big event!  The massage – I met my therapist Putri and walked into the most amazing massage room I have ever seen.  Simply stunning.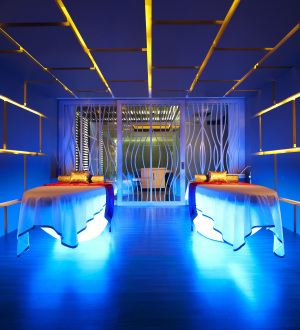 Putri and I began outside in the private courtyard off the massage room with bamboo sticks and yoga.  We used the bamboo to help with the yoga movements – Putri obviously a pro at the use of bamboo and yoga was instructing the movements that I was (embarrassingly, struggling, uncoordinatedly) doing.  I powered through this 15 min stretching exercise becoming somewhat coordinated in the process.. Until Putri finally said it is now time to begin the massage (hallelujah!).
Maybe too quickly I jump on the massage table and immediately fall into deep relaxation.  Without realizing 90mins had gone by and the massage of the century was ended…  I am then lead to the finishing waiting room that is lined with snacks, drinks and books to peruse.
Overall this was a wonderful experience and one that I would highly recommend to all!
This gorgeous resort was the backdrop to some serious wind down after a crazy morning moving from Ubud to Seminyak.
As we walked into the outdoor spa reception there were with pools of goldfish and lotus flowers every which way we turned.  We were ushered to an area to fill out our details prior to taking part in the Aquatonic.  While we sat we were served the best cold drink I've ever had, it was ginger and lemon – and it was delicious.  When we were set – we went into to the women's change room, which was also stunning.  We had an attendant who waited on us whilst we changed into our swimmers, then the magic began!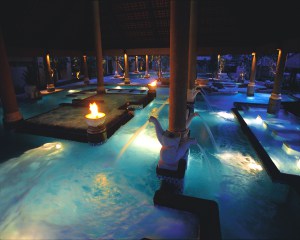 The Aquatonic goes for 2 hours and in essence, it is a large pool with different air jets that massage different areas of the body.  You travel around to each section, and once you have completed the aqua maze you should feel happier and healthier.  Further benefits can be found here.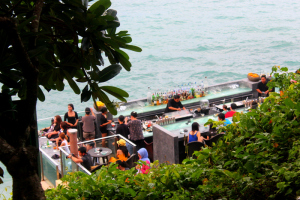 The package that we purchased also gave us a cocktail at the Rocks' Bar in AYANA.  This is the NUMBER 1 Bar in Bali (do a quick google search to check I'm not lying ;)).  This cliff side bar overlooks the Indian Ocean and there is no better time than sunset to enjoy the soft tunes and rolling waves that Rocks' ensues.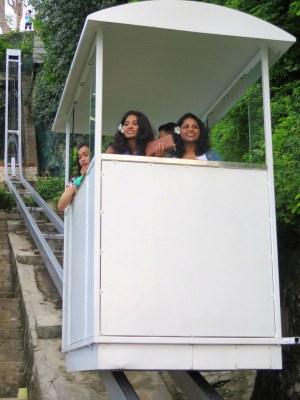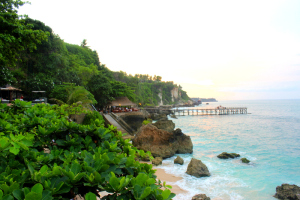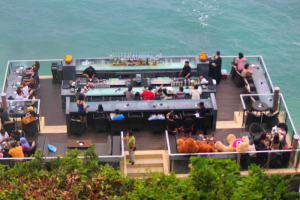 We decided to eat here as well as the drinks were soooooooo good, that we just had to try the food.  Plus, we were starving from the Aquatonic.  WARNING:  Always have food before the Aquatonic, you will feel dizzy and light headed if not!!
Shopping
Seminyak is a fashion hub – you can find quality pieces that are on trend for the season.  Here are two of our favourite shopping spots.
All of us purchased amazing clothes here.  We probably spent about 5 hours (yep!) here total with all our excitement.  The styles are flattering and even if something doesn't look great on the rack – try it on – you may find a really cute outfit (or 2…).
Bali lace… beauty is in the eye of the beholder – and we were all beheld by this store.  Sweet pieces that have a flirty side at great prices.  Tip: go to the sale section – you will find amazing items at crazy prices.
Flight home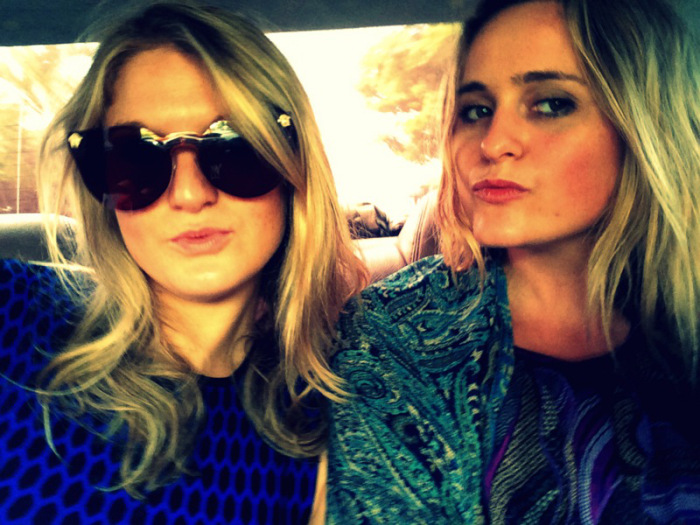 We flew Jetstar into Darwin, Australia.  This cost around $150 and took about 2 hours.  Be sure have cash vailable to pay customs when leaving beautiful Bali – if you're stuck there are some ATM's that are just by the desk prior to paying!
Be sure to bring:
Passport & $35 USD or $46 AUD at the Visa center
Insect spray
Sunscreen
Hat
Swimmers (bikinis, boardshorts, one piece – whatever floats your boat)
Warning:
Drink only bottled water
Follow my blog with Bloglovin
(Visited 477 times, 1 visits today)