"As we crossed the Colorado-Utah border I saw God in the sky in the form of huge gold sunburning clouds above the desert that seemed to point a finger at me and say, "Pass here and go on, you're on the road to heaven."
― Jack Kerouac, On the Road
Sometimes I do crazy things, I personally don't think of them as that crazy.  But, when they smatter out of my mouth, disclosing what adventures I'm to embark on next with my friends, I realize that they're not so common place.  Consistent with this theme, I bring you my next traveling adventure.  If you like road trips and America…read on with the wind in your hair!
Flight
I jumped on the Alaskan Airlines flight from San Francisco departing 8:45pm, arriving in at 11:51pm.  It was a great flight, costing only $135 and taking about 2 and half hours.  I was told the flight into Salt Lake City is beautiful, as the city is surrounded by mountains.  Alas, I arrived in at the witching hour, so I missed out on the air view.  If you have the chance to book, try and fly into Salt Lake City during the day so you can see the magnificent view!
The travel extraordinaire Christopher Beddow (check out his blog here) was the one who talked me into this Kerouac-style trip and was waiting for me at the airport with the Red Baron..  (his SUV you'll see in pics below). But, I digress – back to Salt Lake City!
Salt Lake City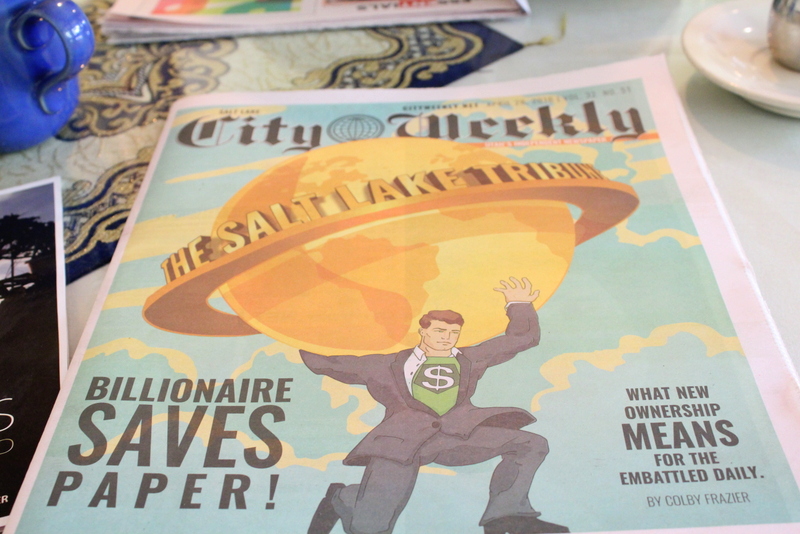 Salt Lake City, Utah's high-elevation capital, is bordered by the buoyant waters of the Great Salt Lake and the snow-capped peaks of the Wasatch Range. It's the home of the Latter Day Saints (this is a religion, not a football team folks). In the downtown area is a 10-acre Temple Square, and is the headquarters of the Mormon Church, it is home to the majestic, 19th-century Salt Lake Temple and the neo-Gothic Assembly Hall.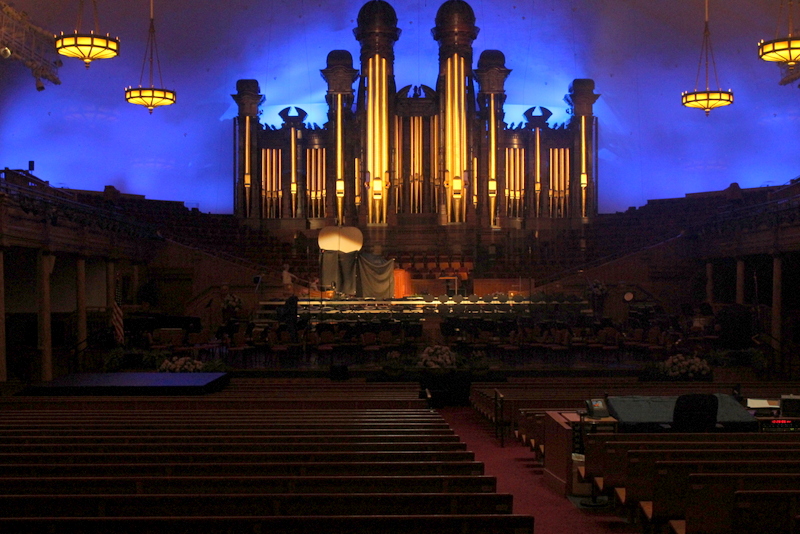 Our first impression of the town was that it's quiet, beautiful and clean.  There's a serene air that captures you and provides a sense of peace.
After jumping off the plane we made a beeline (hehehehe if you read the name above it will make you giggle….) for a local craft brew house.  We had only an hour before closing time so we needed to hop to it.  We scooted over, cheered the beer, downed a pint then headed back to the hotel.  Ask the bartender for a recommendation, whatever your taste, they'll have some bubbly (or less bubbly, whatever floats your boat) goodness for you to wash down all that inflight air.
Stay
Need a place to lay your head for around $45 (per room/per night), then go no further!  There was no need for luxuries as we were in and out like a flash, probably the only drawback was that it was around a 20 minute walk to downtown.  Oh, and don't go for the breakfast – not worth it.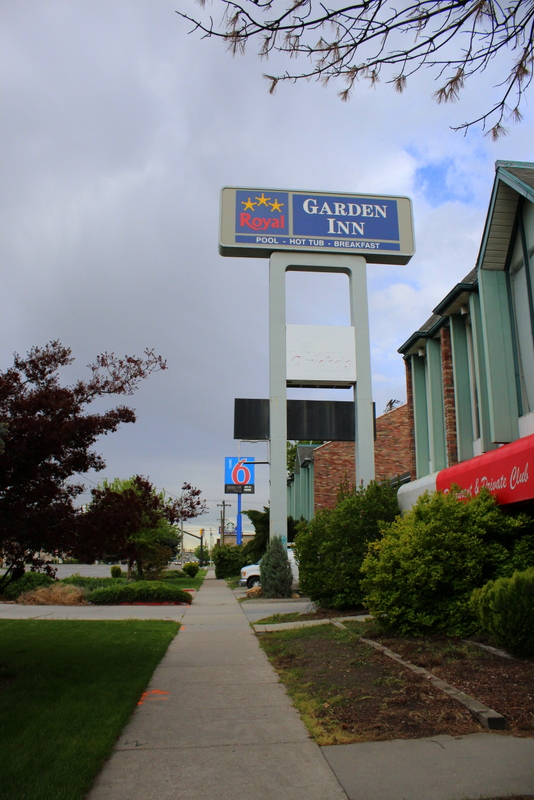 Delving into the unknown worlds of other religions arouses my intellect.  I love to find out why somebody believes what they believe, so when Chris booked a tour at the headquarters for Latter Day Saints (LDS), I was stoked.  You can easily book a tour on their website, they additionally send you reminder emails a few days prior to remind you of what to bring, wear and what to expect.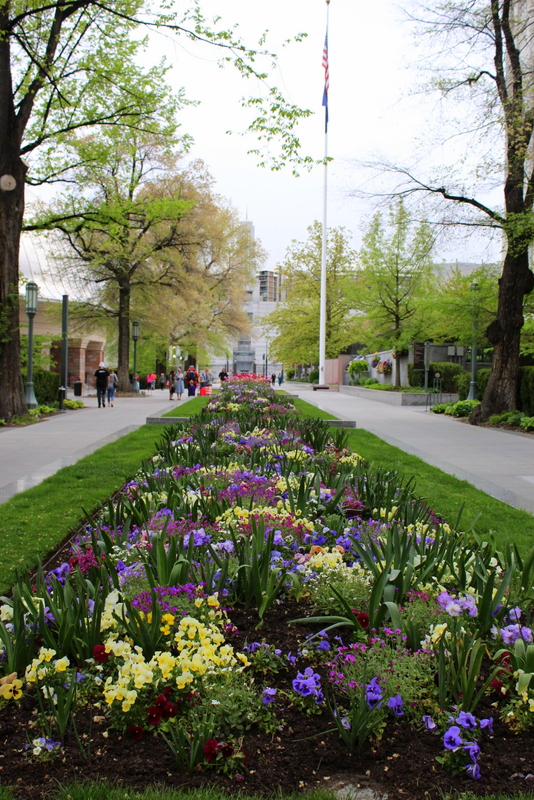 When we arrived at the square we were immediately shocked by the beauty that is around.  The gardens are tended and the architecture is breathtaking.  Statues dot the grounds recalling pivotal religious figures that help inspire others to embody the virtues of those represented.
As we were walking around the temple square, we were being greeted by folks from all over the world.  People were super friendly, not in a superficial way, but as in they generally cared about you and why you were there.  Coming from the Bay Area where it's unusual when somebody says hello to you little less "how's your day going, how long have you been here, where are you from….".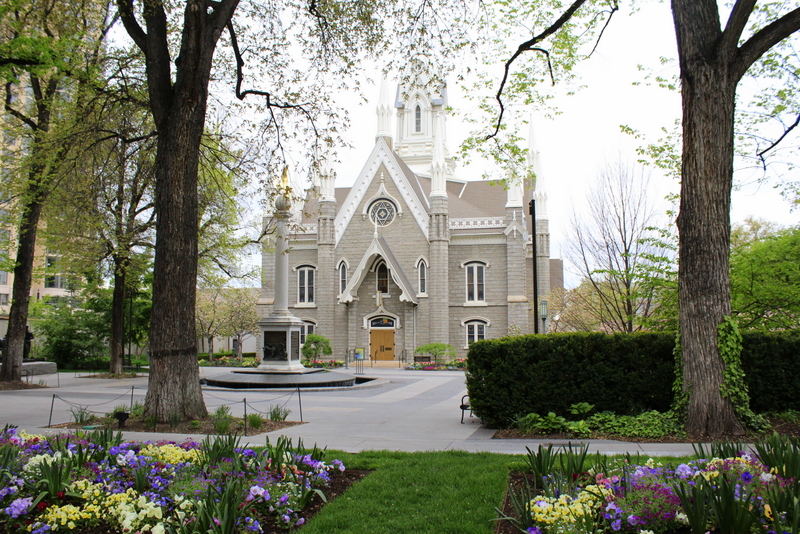 Onto the tour!
We met our tour guides, two women missionaries – one from Brazil and the other was from South Africa.  Their stories were fascinating.  Both of them were around 18-21 years old and both had converted to LDS.  The Brazilian was born Catholic and then was introduced to LDS and didn't turn back.  The South African missionary had been through extreme hardship in South Africa with her and her family, and the only people that cared about the struggles they were facing was a local LDS family.  This family saw the kindness that had been bestowed upon them and wanted to have the same love and faith that was modeled.  So the whole family converted.  It is usual to see LDS missionaries between the ages of 18-21 as it is almost a 'rite of passage' for young adults in the Church to go on an 18 month journey to spread the word.  They never know where they are going to end up, they are sent a letter with the country they will minister at for the next 18 months, then off they go.  They aren't afforded much connection with their family, only being able to call them on special holidays such as Mother's Day (this would be so difficult).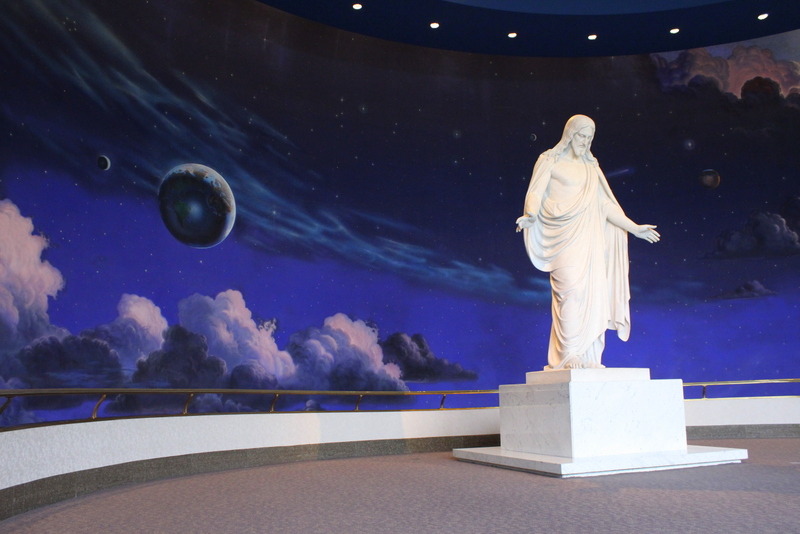 The tour is tailored for the participants, and the tour guides (missionaries) definitely want to interact with you.  It was a great way to learn firsthand about the LDS church and faith.  Something to expect is what I call the 'seesaw effect': the tour would swing from informational to proselytizing which for me engages my religious juices, but for others, like Chris, this can be a little whelming.  Through this tour you get to experience the personality of a Mormon adherent and their way of life.
Noteable: they don't let you go into the temple itself, but there is a diorama and a screen that lets you virtually tour the temple.
Extra side note:  Mormon's can baptize the dead by proxy.  Take for example if I decide to become a Mormon.  My family is mostly Catholic or Anglican in ancestry.  Therefore, I may feel compelled to baptize all my deceased family into The Church of Jesus Christ of Latter-Day Saints.  Whether or not the souls of my resting family members are ok with is apparently null and void.  This is excerpt is taken directly from https://www.mormon.org/faq/baptism-for-the-dead:
Because all who have lived on the earth have not had the opportunity to be baptized by proper authority during life on earth, baptisms may be performed by proxy, meaning a living person may be baptized in behalf of a deceased person. Baptisms for the dead are performed by Church members in temples throughout the world.
I'd love to hear what you think about this (comment below!!).
Food
On 15th & 15th – for all those who love Middle Eastern cuisine, this is to fill the void.  It was apt that Chris and I ate here actually as we both have an affinity for Middle Eastern culture.
What to order:
Of course, the one and only… Labne (do yourself a massive favor if you've never had this, try it, you won't be disappointed).
Kafta – glorious lamb, how can anyone say no to you?
Finally the Spiha Chris loved this.
While you're here, go to the bookstore next door and get lost in the fantasy, horror and adventure novels lying around.  The attendants are knowledgeable and kind, it's also pretty cool looking.
From here our next destination was Moab.  Moab is around a 4 hour drive from Salt Lake City, I can imagine your thinking in your head, why on earth are they driving 4 hours to get to another Western American town…  Well my friends, stay tuned because this is one highlight that you're not going to want to miss when heading on your next American road trip….
This was not a planned stop.
As we were on our way to Moab, Chris saw a little sign for the temple, he also missed our exit, so we were going to take a back road to get over the highway. Then both of us saw a red sign: Krishna's Lotus Temple.   In the distance we could see the temple on the hill, we navigated over to it.  It was just a country road with houses and farms, the temple was kind of similar and (no parking) you just pull up on the dirt.  Immediately as you arrive you can see alpacas and peacocks.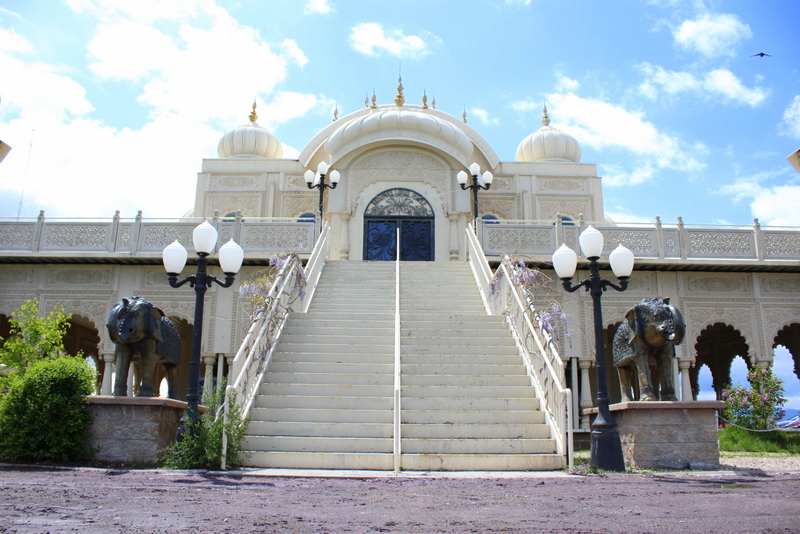 This place was pretty cool.
We walked in, and being curious souls, made our way up the stairs to the 'temple' area.  Here a Hare Krishna monk beckoned us to come over, he blessed us with a third eye and had us drink some rosewater (I'm guessing this was for cleansing).  There was a space with rugs and cushions, the monk went to sit down there, we followed, and all of a sudden he burst into song.  He played the harmonium and there's a sign for the words to sing.  I was pretty stoked, I think Chris found it a little whelming (again? that was kind of funny), as we kept singing and singing the same song over and over again. Probably went for around 10 mins., minimum.  From there Chris had had enough (I could see it in his eyes, hehehe) so we were off again.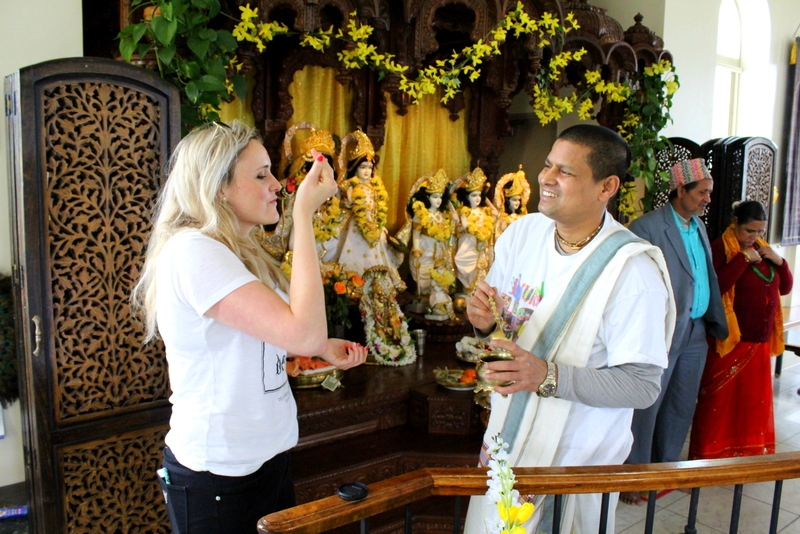 Friday night – Moab, Utah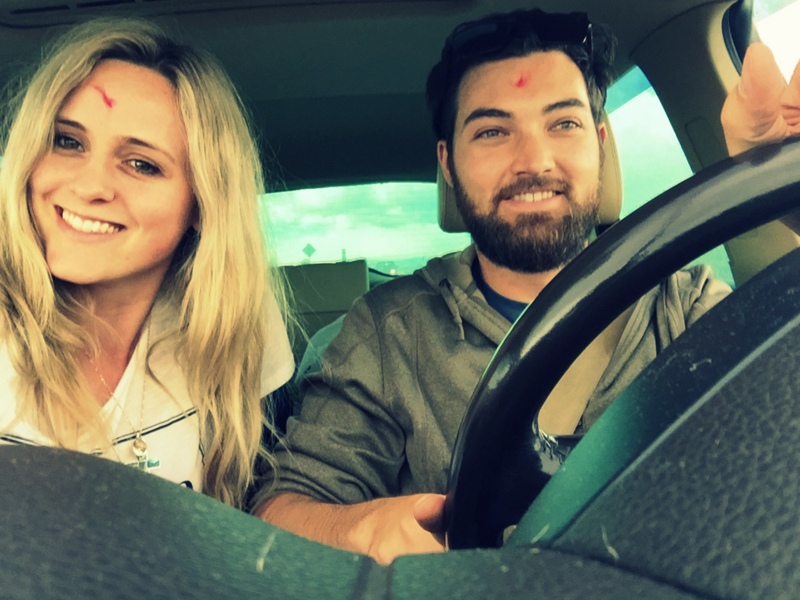 We made it to Moab (around 3.5 hours from Salt Lake City to Moab), just in time for the car show… LOL  (this LOL is because car shows are not an attraction that I would travel to Moab for, so that was a little tongue in check, also as a side note the video on my Instagram shows some of the cars that we were following in Utah).   We had an inkling this would be happening, when Chris was looking for accommodation it was full, upon investigation, it turns out that this car show is quite the attraction.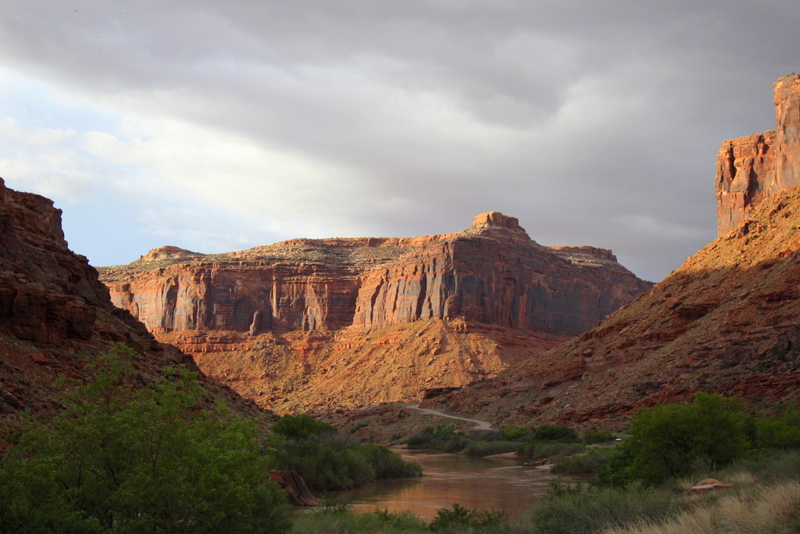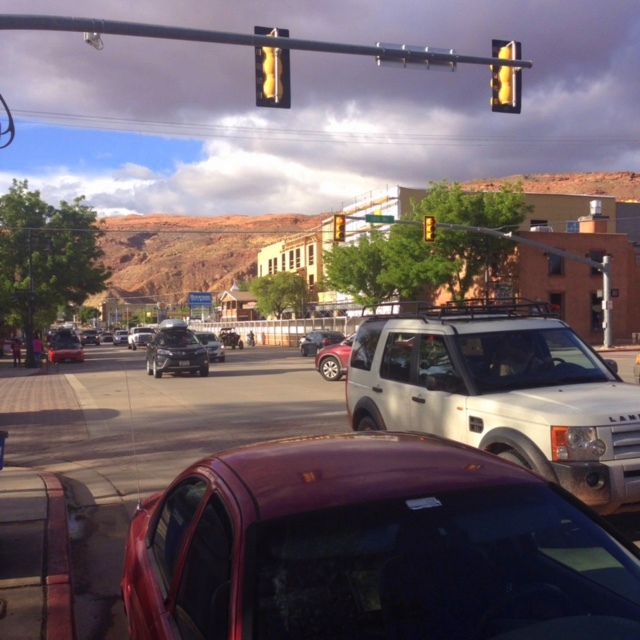 Eat
We pulled off on the side of the road to perambulate through town.  What's striking about Moab is the red dust and dirt, the sort of Road Runner esque background that permeates through the town.  It was beautiful, it reminded me of the dust and red dirt back home in the Northern Territory.  We had a hankering for Mexican food and Miguel's Baha Grill was our dinner stop.  Here we ordered the lamb tacos and they were delicious.  This was the first time I'd had lamb tacos.  As an Aussie in the US I can be wary of ordering lamb, at home down under the lamb is nector to the Gods, so it can be a gamble when ordering this meat.  However, Miguel's Baha Grill delivered the goods.
Stay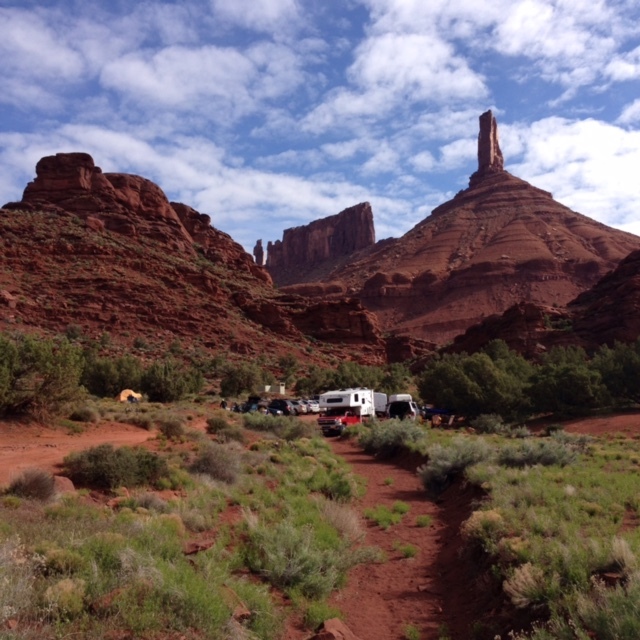 We drove up the UT-128 highway that runs parallel to the Colorado River in order to arrive at Castle Valley, where we pitched our tent at the climbers campsite.  I've got a few pics below but it honestly doesn't do it justice.  The environment is so unique, with one side of the road having these rolling green plains with gorgeous mountains a top.  The other side of the road (the side we were staying on) was full of the red desert dirt, succulent plants that live in arid conditions and stunning spires that come from years for erosion.  Rock climbers come here to take advantage of the climb and the diverse and stunning views.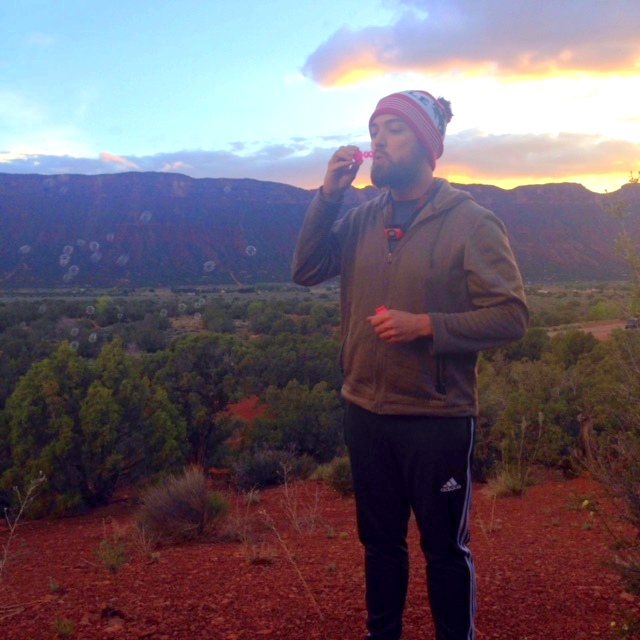 At times in life there's special moments, and truly this night in Castle Valley Moab was special.  There's something about being in this space that is truly life giving.  Similar to the vortex experience in Sedona, Arizona, the earth here provides a nourishment to the soul.  Chris woke me to a sight that I will cherish in my memory box for all eternity.  The spire that we were camping under had a little light slowly making it's way up the to the pinnacle.  Under the blanket of stars in the night sky, this was something that seemed like a gift from the divine.  We had the pleasure of witnessing the climbers making their way up the spire like tom thumb, but all that was visible to us was there climbing light.  It made for an incredible sight.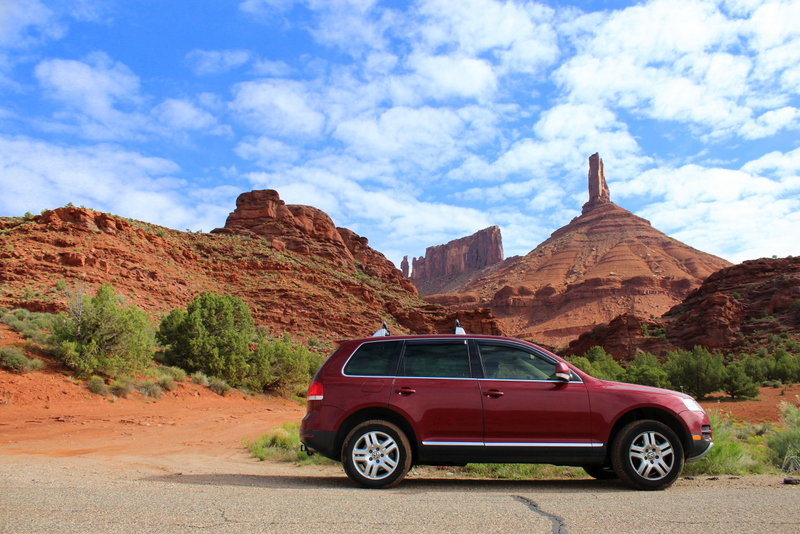 We woke in the morning and dismantled the tent.  We were terribly hungry so the decision was to check out a place called Red Cliffs Lodge on the banks of the Colorado river.  This could not have been a better decision.  Both of us decided that this was one the best breakfasts we have ever had.  If you're looking for lodging, this place seems quaint, cute and welcoming.  When in Moab and looking for a little more luxury than camping, if the breakfast is anything to go by, this place is the bomb.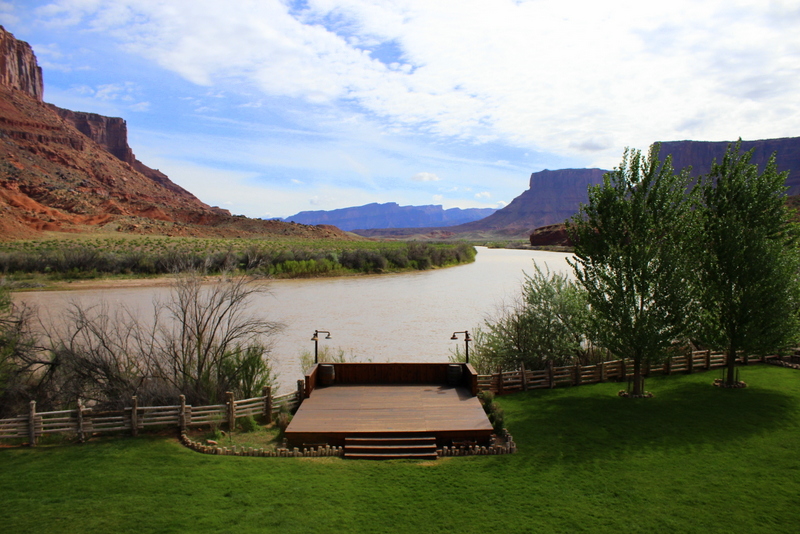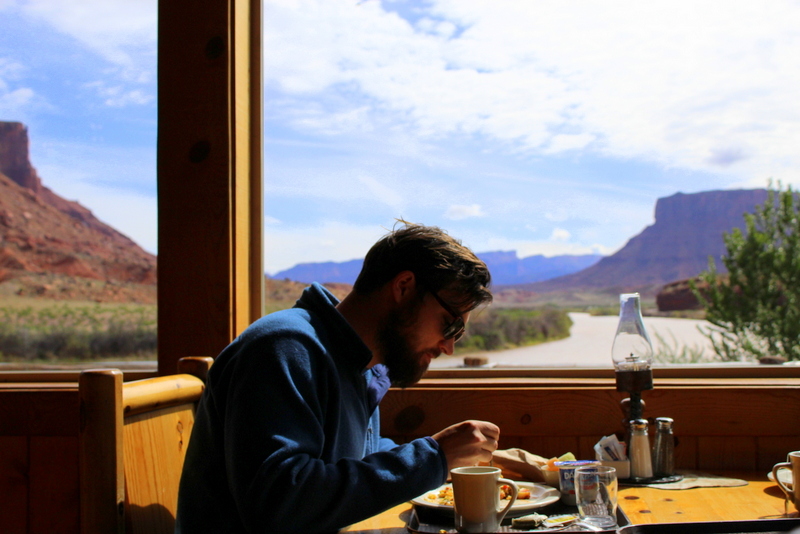 Whilst on our drive from Moab to Breckenridge (Moab – Breckenridge 4.5 hours, along I-70 which is the main vein going east-west through Colorado, the environment transitions from high desert to forested mountains) we passed through Glenwood Springs in Colorado.  There's some natural springs to check out here…… but we forgot to bring a towel (if you have read/watched the Hitchiker's Guide to the Galaxy you will understand that this is the #1 essential tool for traveling). Here's where the springs are, if you go be sure to bring a towel.  We drove by it, it looked great.
Our yearning for hot springs wasn't in vain though.  As we were in the town of hot springs.  There are hot springs everywhere, they pop up like In 'n' Out appears on the California Highway. We went into town to grab a few items and asked the store assistant the best hot springs to attend.  She said: Ironwood Springs – so off we went.
Now in the spirit of full disclosure, we hadn't showered in over 24 hours (you know, the whole wilderness, camping thing) so as I passed through the doors of the change rooms I heard a choir of angels singing 'hallelujah' with the faint hint of a halo around the springs (could have been the sun).  Dipping my toe into the water was a glorious event, made all the more special with alcohol.  Yes, ladies and gentleman, you can drink alcohol in these heavenly hot springs.  It's open till around 10pm so it's certainly worth it to make a day of the springs, as there are several different pools of varying temperature that you can take advantage of.  Towel hire is around $3 and they have fully functional showers with Shampoo, Conditioner and bodywash.  We bathed and drank for an hour or two and then headed back to the car again to make our way to Breckenridge.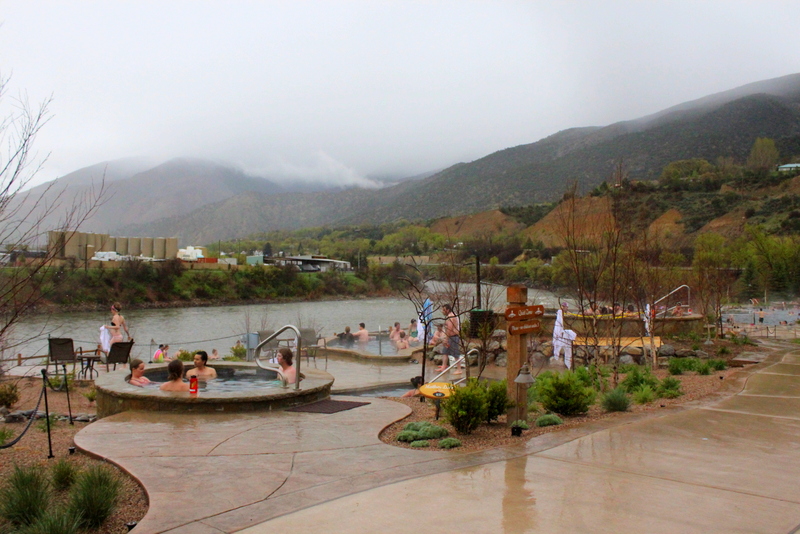 Breckenridge
Breckenridge is a Colorado town at the base of the Rocky Mountains' Tenmile Range. It's known for its ski resort, year-round alpine activities and Gold Rush history. The Victorian core of this former mining town is preserved as the Breckenridge National Historic District, running primarily along Main Street, with colorfully painted buildings from the 1880s and 1890s housing shops, galleries and restaurants.
This town is so cute!  Even in spring, it snows, so be sure to bring all your woolies.  It looks like a town straight out of the North Pole.  We arrived and dropped our stuff at the Hotel then made our way for some Din Dins.  We couldn't have asked for a better place have dinner.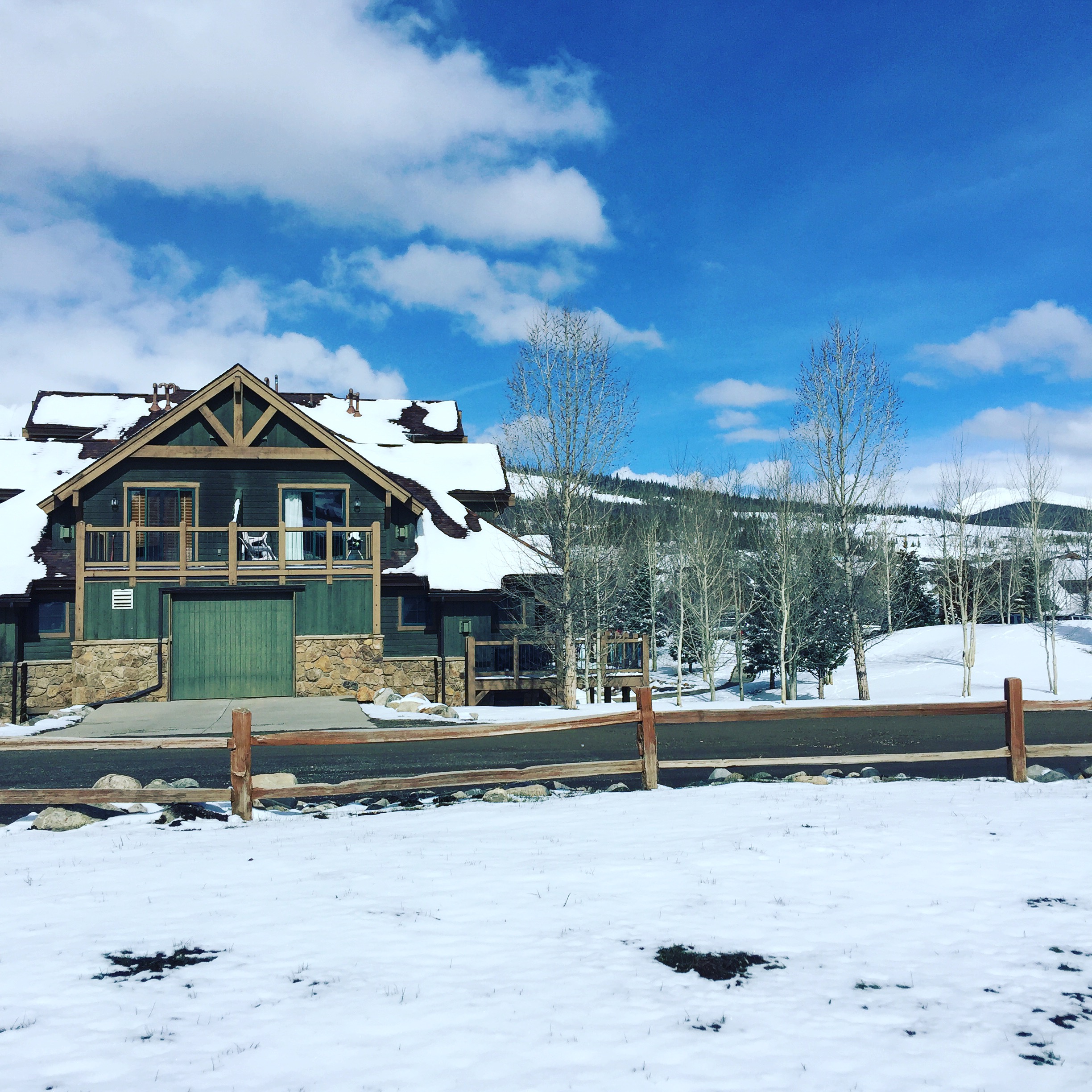 Eat
This place is popping!  Just like the song says, 'well the weather outside is frightful, but inside is so delightful' this is Canteen.  It was snowing and quite cold outside and as soon as you walk through the front doors you're hit with warmth and delicious wafts of delicacies that make  your troubles melt away.  We were ushered to a table and perused the menu.  I ordered a delicious Bloody Mary and for the food we got the chicken wings (yum), Gumbo (double yum) and Bison Burger – this was the crowning glory.  I'd NEVER EVER had bison before, but I'm now HOOKED.  I <3 bison, if you're a meat eater and have the opportunity to try bison – do it – you won't regret it.  We then headed back to the hotel to rest our weary heads.
Stay
These rooms were super cute and had just been updated.   The Wayside Inn allows pets!  It's about  5-10 mins outside the center of Breckenridge, it's a nice offset location with a golf course next to it. The people were really nice, the place was cozy and it was a great deal.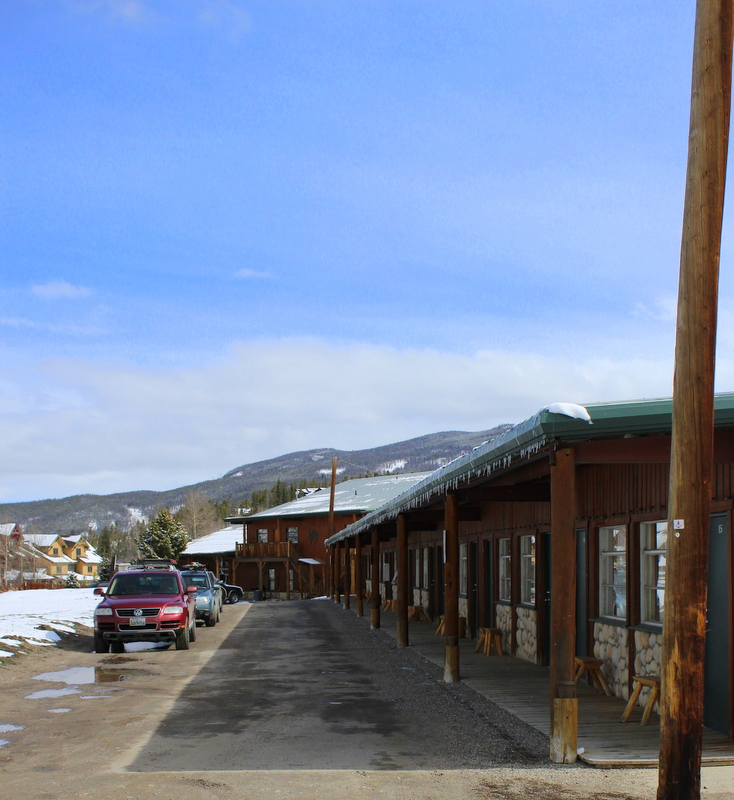 Sunday Morning
Drove to Central City: 1h 15min, 60 miles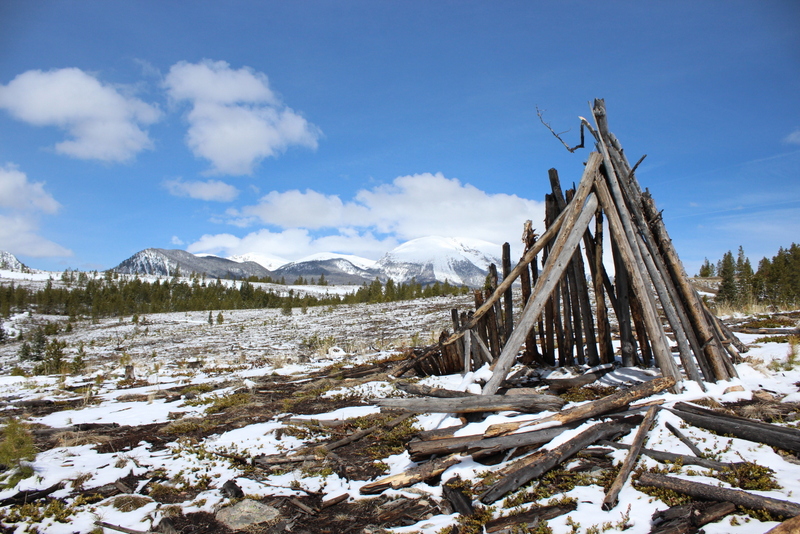 This is a must do!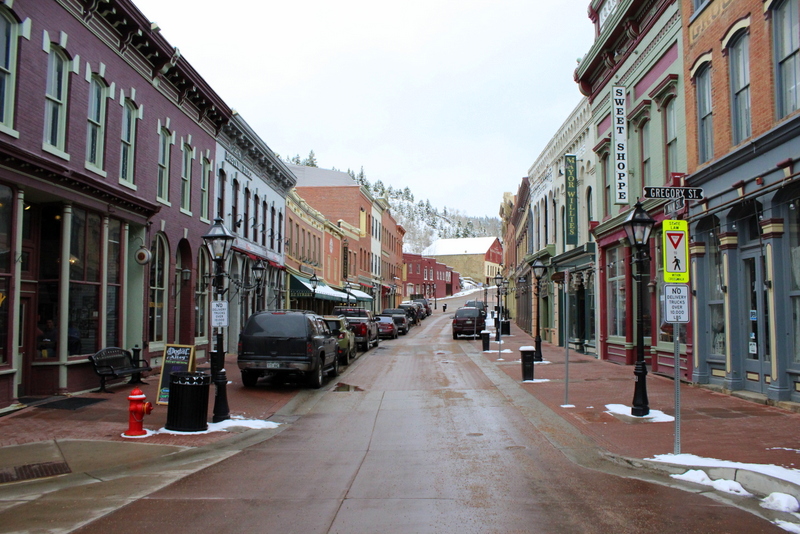 Central City is located in the Rocky Mountains, only 35 miles west of Denver. An easy, incredibly scenic drive to a historic destination. Head off a side highway north of I-70, (it's a beautiful winding highway drive to get there), two towns merge into each other, Central City and Blackhawk. Casinos as far as the eye can see.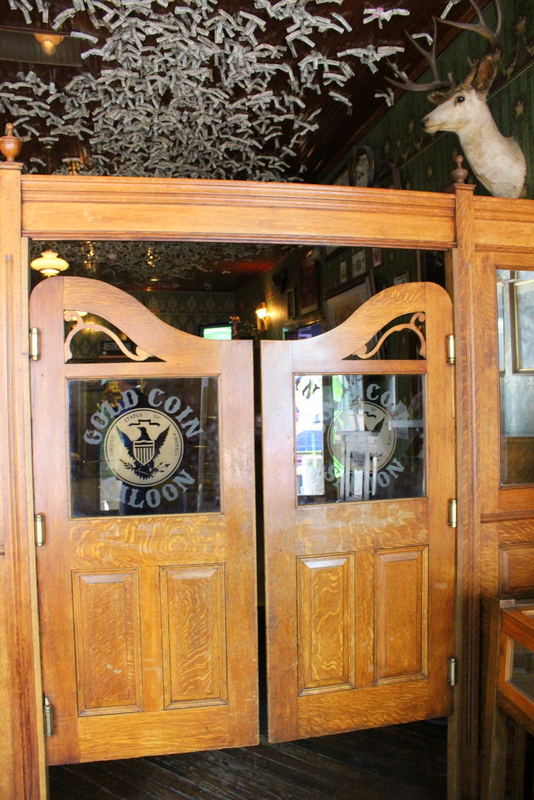 Eat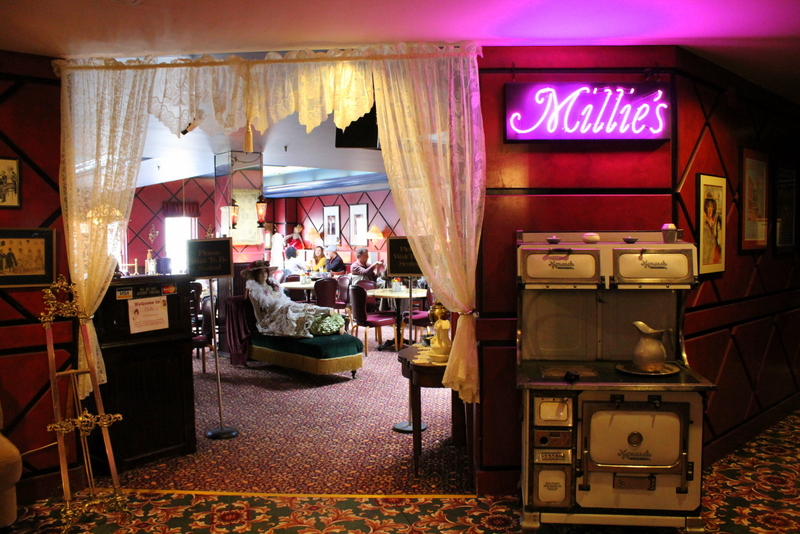 We went in the wrong Casino to go to Millie's our lunch spot – beware, Yelp is not correct.  The gentleman at the casino was so nice, he pointed us in the right direction.  Off we went, back through the snow (it was snowing at the time, check my video on Instagram) to heed the call of our rumbling tummies.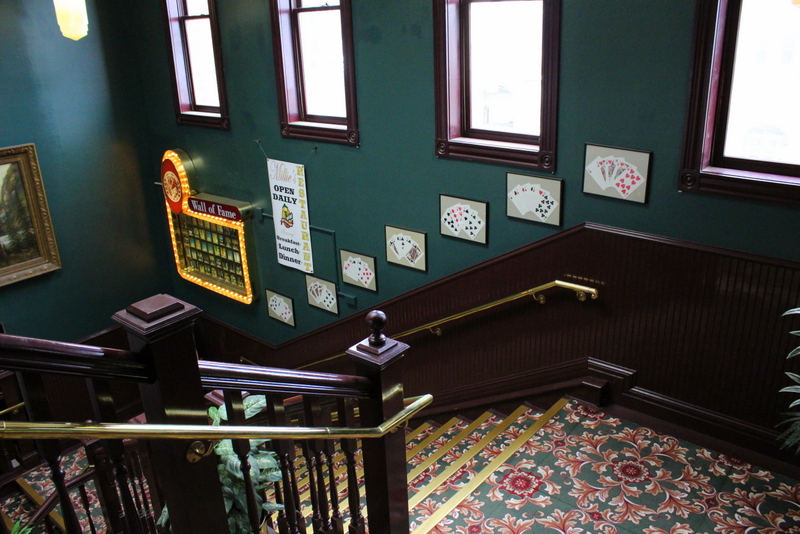 Walking through the Gold Coin Saloon then up the stairs to Millie's restaurant; is like stepping back in time.  It's like walking into a Wild Wild West movie set, EXCEPT IT'S REAL.  We ate some pretty delicious American delicacies, Fried Chicken, Chile Verde and Eggs with sausage.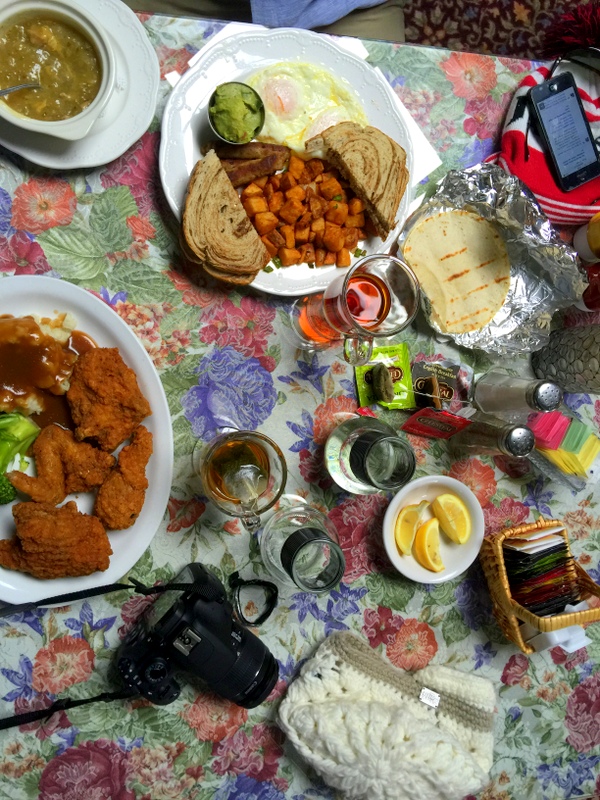 Oh, what to do now?  With full tummies and contented minds, there's was only one option.  Gamble….  Look, neither Chris nor I are big gamblers, however, when in Rome……We went back downstairs to the main casino floor and had a flutter on the poker machines (pokies for all the Aussies out there).  We won – 10 cents 🙂  *Round of applause**Bow* Thank you, thank you all!  With smiles on our faces, we walked away happy to have made some moola (even if it was all of 10c).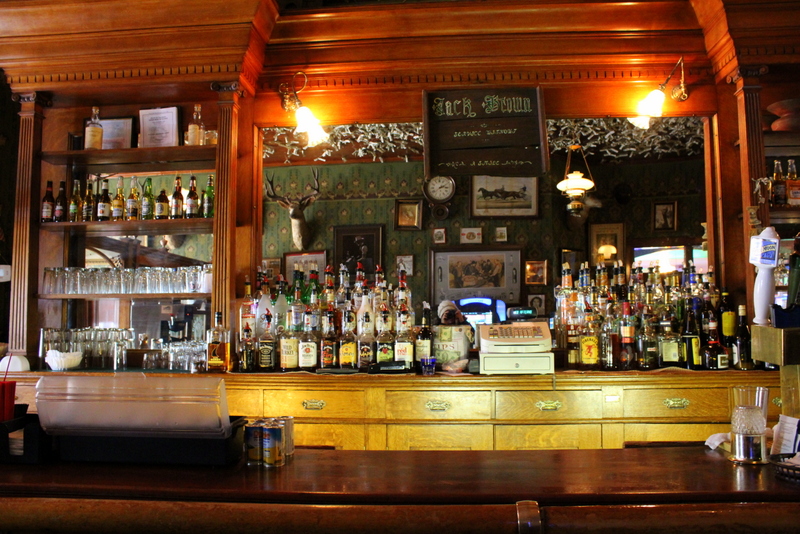 On our way out we spent some time in the bar, I don't know if you remember the inside of a bar from an old western movie, but this is it!  The whole kit and caboodle.  The swinging doors, the elk head on the wall, and dolla dolla bills on the roof… WAIT, what?  Dolla, dolla bills on the roof?  That's not quite circa 1890's…   There's a story here:
This bar that I'm talking about is most famous for its "Bringing Down the Ceiling" party. This unusual event always takes place the night of Lou Bunch Day – June 18 this year (we just missed it, damn).  Throughout the year, visitors ask why there are dollar bills tacked to the ceiling.  The bartender shows them why – after requesting a "George" and a quarter. The bartenders are skilled at adding a tack to the bill and tossing the items to the high ceiling – the quarter comes back down, to be returned to the visitor, and the bill stays on the ceiling. The visitor is asked to fill out a postcard with his address and he will receive an invitation to the next "Bringing Down the Ceiling" party, where he will drink free, courtesy of the ceiling. For everyone else the evening includes happy hour with free appetizers.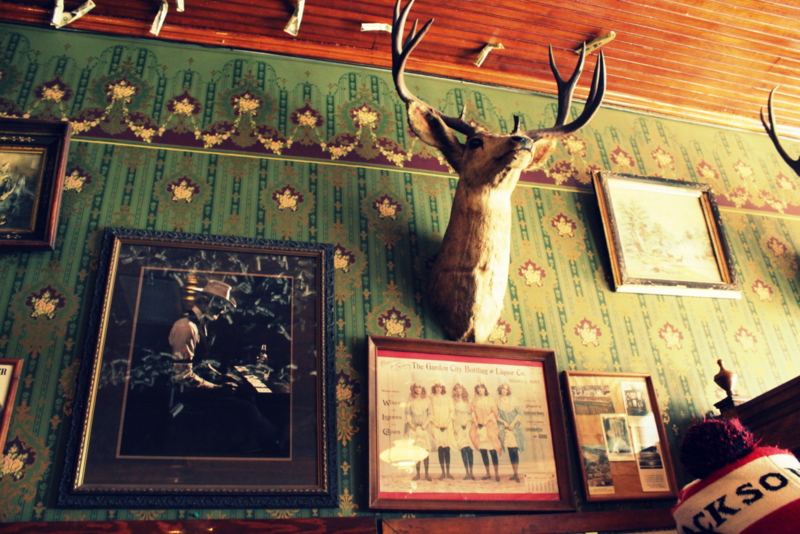 Check out the Gold Coin Saloon and Millie's you'll have a wild ride J
Soooooo, back on the road again!
We went up toward Nederland and then decided to keep pushing North to Estes Park, on the way we saw a church in the middle of nowhere, that looked like something out of Game Of Thrones.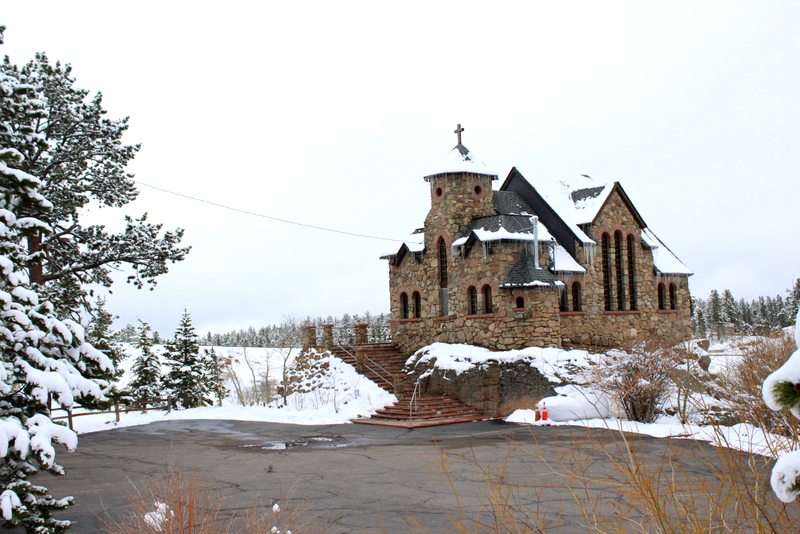 St. Catherine of Siena Chapel, also known as Chapel on the Rock is a tourist landmark in Allenspark, Colorado, USA. The chapel is located on the grounds of the Saint Malo Retreat, Conference, and Spiritual Center of the Catholic Archdiocese of Denver. The chapel is open to the public, however, whilst we were there it was closed, for opening hours, visit their website.
Fun fact: Pope John Paul II prayed at the chapel during his visit to Denver for World Youth Day in 1993; he blessed the chapel afterwards. The pope later hiked in the surrounding woods and spent some time at the Saint Malo Retreat Center.
Estes Park
Estes Park, Colorado is the base camp for amazing adventures in Rocky Mountain National Park. Here you can explore the Colorado Rockies, encounter real wildlife, or get lost in the National Park.
Drink
On the wall of this pub is a sign:
"Beer is the answer, but I can't remember the question."
This is an apt description of the pub in general. As it seems that Chris and I got lost in conversation here for several hours (probably due to the very attentive bartender, who was Nepalese BTW). We had few ales and would recommend this as a great destination to rest.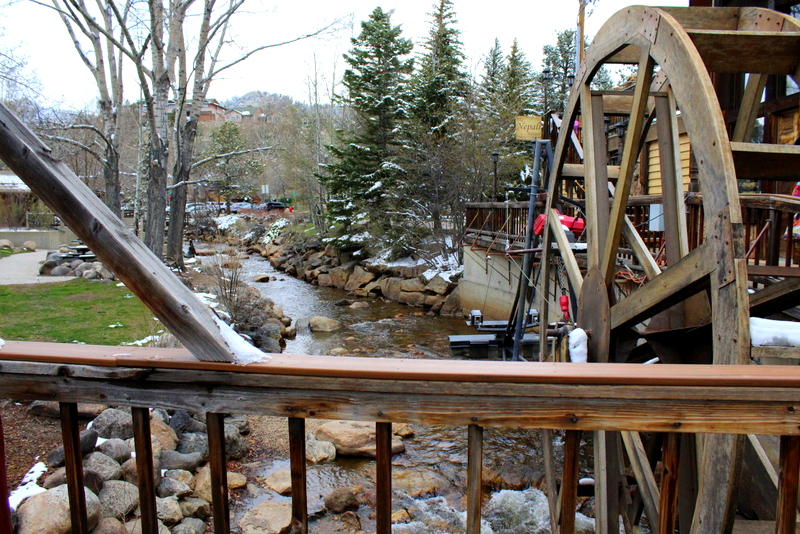 There's an old water mill and river just next to it, a scenic spot to contemplate life at. The contemplation will probably go much better prior to the visit to the pub (hehehhehe).   Additionally, there's a cute Nepalese store to the right of the water mill and above the pub.  It seems that there's quite and active Nepalese community here – it's beautiful to see!
We made our way into the entrance of the Rocky Mountain National Park.  We journeyed through the park and saw…. Big Horn Sheep!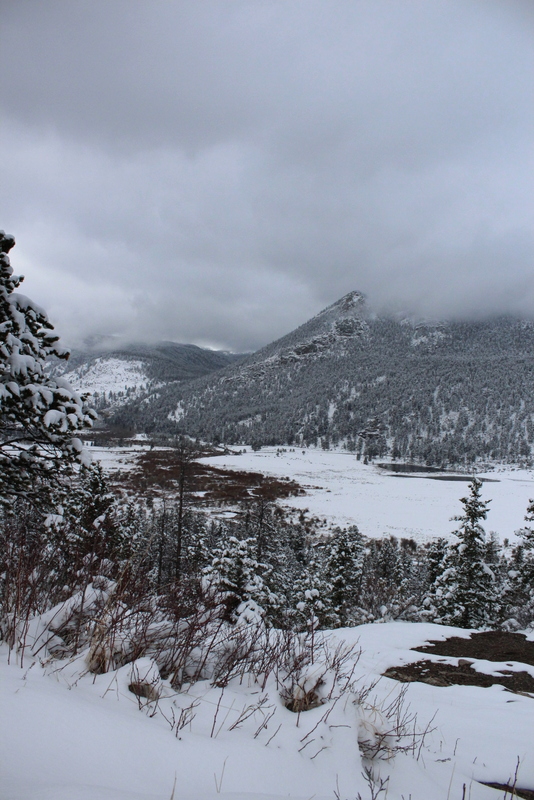 The Rocky Mountains – is really a frozen winter wonderland, it has an awesome driving loop with sweeping views.  Wildlife will pop up and around.   Probably my only regret about this place is that we didn't have much more time to do it.  When here, take the time and go on some adventures, it's really God's country.
Stay
We looked for lodging for the night and came across Coyote Mountain Lodge.  Easy to reach, everything is within a 5 minute car ride, for the value, fantastic.
Activities
We checked out the Jungle Book at the local theater .  This place is super cute!  I'd recommend having a looksee if you've got a movie you're particularly fond of checking out (like we were of the Jungle Book).  The popcorn is lovely and it's just down the road from the Lodge.
Our Lady of the Mountains Catholic Church is a beautiful log church near the center of Estes Park, and is within walking distance of many hotels.  It was built over 100 years ago and looks over the whole valley (truly breathtaking).  There's an outside worship garden, with the statue of the Virgin Mary front and centre.  
The smell and feel of this church is overwhelming, and admittedly, I did shed a tear.  Truly a worthy stop for those interested.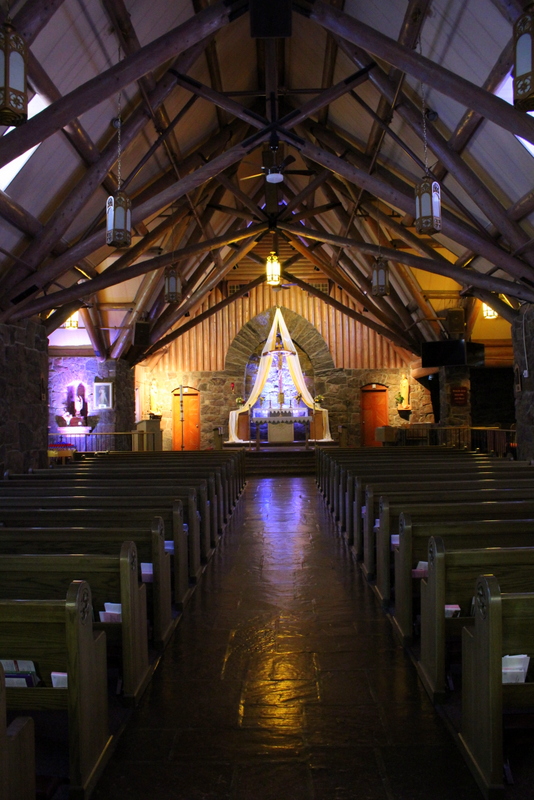 The next day we were on our final leg of the journey.  We went from Estes Park to Boulder, had a quick bite to eat in Boulder with a friend (downtown Boulder is so hipster!).  I had an afternoon flight in Denver so we hightailed it to check out the sites in Denver (the bookstore – Tattered Cover– is amazing there), we caught the tram to get around downtown Denver, it's free in the city and takes you from one end to the other.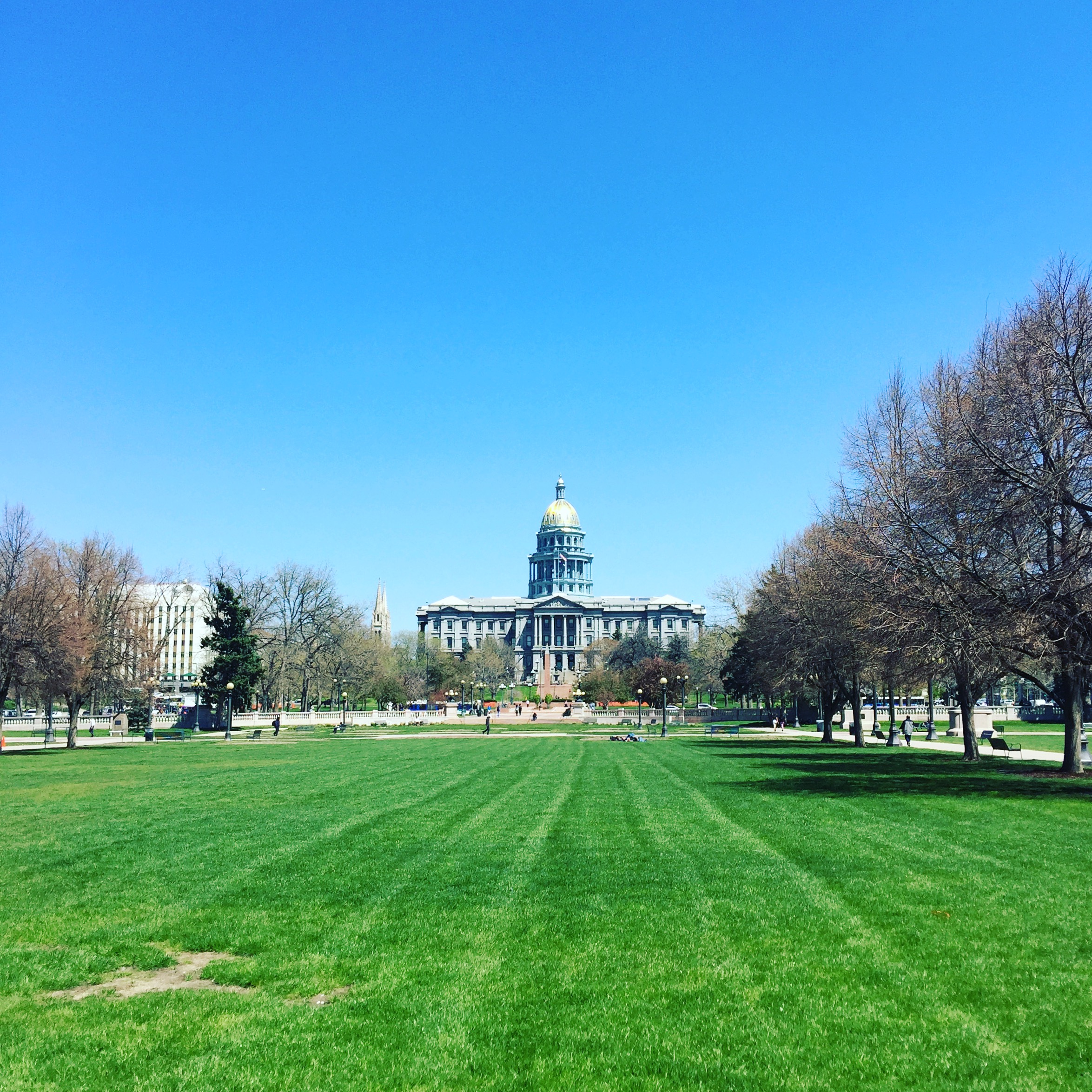 Then it was goodbye time and back to Silicon Valley!
I've made a map with all the places we stopped here.  Check it out if you want to do the same.
I love to write and share my life with others!  You can find me on many social media platforms, however, if you would be so kind as to like and possibly share this – I'd be so grateful (makes me feel warm and fuzzy when you guys do this!).
(Visited 477 times, 1 visits today)